You are surely in for a treat when you try these marinated chicken thighs in air fryer! This Gochujang Chicken Thighs recipe is not only easy to follow. It also makes the flavorful and juiciest chicken thighs you will ever have!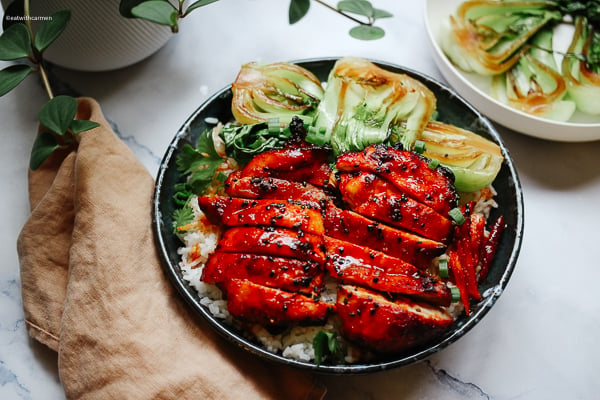 Inspired by a popular Korean dish called dak galbi, my version of gochujang chicken thighs is made with chicken thighs, gochujang (a Korean chili paste), mirin, honey, and some common spices. The gochujang paste adds so much umami flavor and spice to the dish, while the honey helps to balance out the heat.
---
WHY YOU WILL LOVE THIS RECIPE
---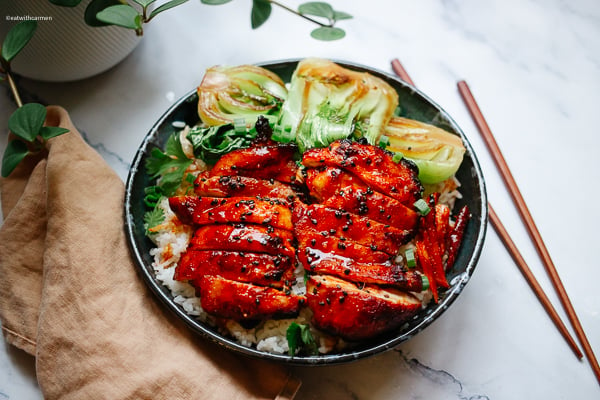 Ingredients and Substitutions
Boneless chicken thighs: Most air fryer chicken recipes work best with chicken thighs as they are more flavorful and juicier than chicken breasts. However, if you prefer, you can use skinless chicken breasts or even bone-in chicken thighs. If you do use chicken breasts, the cooking time would be a bit shorter, so they don't dry out.
Avocado oil: Any neutral cooking oil will work, but I prefer using avocado oil as it can withstand higher cooking temperatures without smoking.
Gochujang paste: This is a Korean chili paste that you can find in the international aisle of most supermarkets. Don't worry – it's not too spicy, and you can easily adjust the heat when needed.
Mirin: A Japanese sweet rice wine that adds a touch of sweetness to the dish. It's usually available in grocery stores or online. If you don't can't find one, you can substitute it with rice vinegar or white wine vinegar.
Soy sauce: I used low-sodium soy sauce in this gochujang chicken recipe, but you can use regular soy sauce if that's all you have.
Honey: Perfect for balancing out the heat from the gochujang paste. You can use any type of sweetener for this recipe, or even maple syrup, brown sugar, or agave syrup if you prefer.
Garlic: I always add tons of fresh garlic to my chicken thigh recipes, but you can use garlic powder if that's all you have. Make sure to mince it very finely, so it doesn't burn during cooking.
Ginger: Another ingredient that adds a touch of warmth and flavor to the dish. As much as possible, use fresh grated or minced ginger.
Garnishes (optional): Sesame seeds, lemon juice, green onions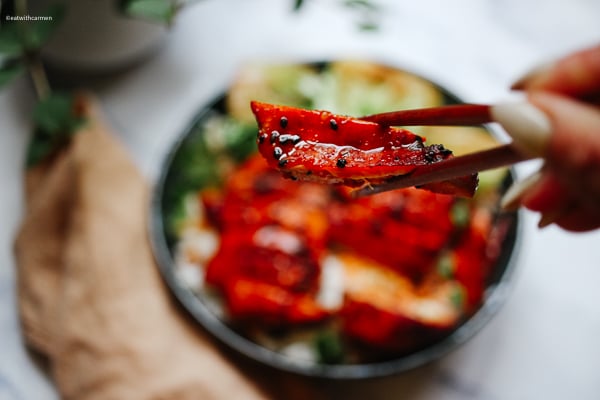 Equipment
---
Tips & Notes for the best marinated chicken thighs in air fryer
---
Storage and Reheat Instructions
STORE – store leftovers in an airtight container for up to 3 days in the fridge.
REHEAT – reheat in a microwave or the air fryer to get the skin nice and crispy again.
FREEZE – freeze the cooked air fryer chicken thighs in the freezer for up to 3 months.
---
What to serve with Gochujang Chicken Thighs in Air fryer
---
more air fryer chicken thigh recipes – my specialty!
---
GOCHUJANG MARINATED CHICKEN THIGHS IN AIR FRYER FAQs
What does gochujang taste like?
Since gochujang is made with different ingredients like red chili peppers, glutinous rice, fermented soybeans, and salt, it has a unique flavor that is both spicy and sweet with a hint of smokiness. It's one of my favorite Korean ingredients to cook with!
Does gochujang taste like Sriracha?
No, gochujang does not taste like Sriracha. While both are made with chili peppers, gochujang is much sweeter and less acidic than Sriracha. Gochujang paste also has a very deep and complex flavor – definitely worth trying if you're looking for something new!
What temperature should chicken thighs be?
The internal temperature of the chicken thighs should be at least 165 degrees F when cooked through. It typically takes about 10 to 15 minutes to fully cook chicken thighs in an air fryer, depending on the size of your chicken thighs.
Should gochujang be refrigerated?
Once opened, the best way to store gochujang paste is in a tightly sealed container in the fridge to prevent drying. It will last for 2 to 3 months when stored properly.
---
Here are some other recipes you will love!
---
Print
Gochujang Chicken Thighs Air Fryer
Total Time:

25 minutes

Yield:

2

-4

1

x
Instructions
In a bowl, combine all ingredients. Mix well.
Add the chicken and mix well.
Marinade for 15 minutes or more. For best results, marinate overnight.
Air fry at 350 degrees for 20 minutes, flipping halfway. The internal temperature of chicken is 165 degrees or more.
Serve and enjoy!
Notes
Thaw the raw chicken completely if you are using frozen chicken thighs. Otherwise, they will not cook evenly in the air fryer.
Marinate the chicken thighs for at least 30 minutes, or overnight if possible, to help the flavors from the homemade marinade penetrate the meat.
Preheat your air fryer while marinating the chicken, so it's nice and hot when you start frying. This step is essential to cook the chicken evenly and result in a crispy exterior.
Cook the chicken in batches depending on the size of your air fryer so that they are not overcrowded in the air fryer basket. This will help them cook more evenly and prevent them from steaming instead of frying.
To make this dish extra spicy, add a pinch of cayenne pepper, chili powder, or red pepper flakes to the flavorful marinade.
Use an instant-read thermometer to check if the air fryer boneless chicken thighs are cooked through. They are ready when the internal temperature reaches 165 degrees Fahrenheit.
Author:

Carmen

Prep Time:

5 minutes

Cook Time:

20 minutes

Category:

mains

Method:

air fryer

Cuisine:

korean
Keywords: marinated chicken thighs in air fryer, gochujang chicken, gochujang chicken air fryer