These delicious air fryer chicken thighs are full of umami flavor. The miso, mirin, and sake complement each other to give this miso chicken thighs the best taste. Air fried to perfection in only 25 minutes, this delicious and easy garlic miso chicken recipe is an excellent addition to your monthly recipe rotation. If you love the glorious smell of miso chicken from takeout but are trying to eat healthier, this recipe is definitely for you.
---
Made with just a few simple ingredients, this air fryer miso chicken thighs dish comes together in under 30 minutes. And if you always forget to marinate your chicken, this recipe doesn't require any marinating! It only takes a few seconds to whip up the garlic miso sauce, and then you can rub it all over the chicken thighs before cooking.
I love coming up with versatile marinades. The combination of garlic and miso in this marinade works well not only in chicken but also in fish or tofu.
Once the air fryer chicken thighs are coated well in the garlic miso sauce, it's air fried to perfection. I prefer using an air fryer for this one, but it can also be cooked in an oven. Cooking times for miso chicken will be listed below.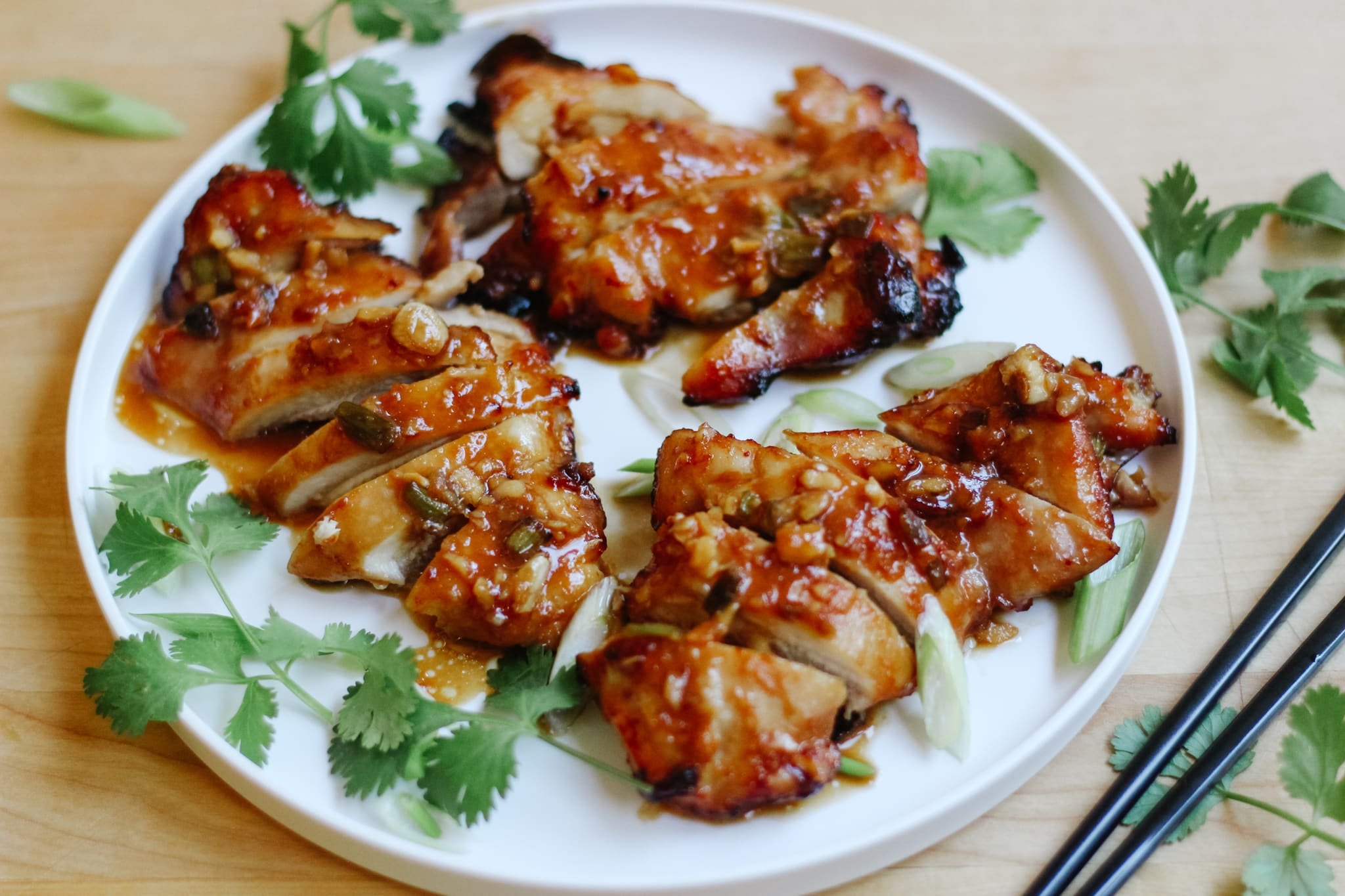 What is miso?
The star of this miso chicken recipe. Miso is a fermented soy product made with soy and a mold called koji, and sometimes in combination with wheat or rice. It's a common ingredient in Japanese cuisine, and it's used as the main ingredient in miso soup, but also as a flavoring agent in many other dishes.
Miso has a ton of health benefits and a great umami flavor. It is not just for soups as it adds a lot of flavor which can make any protein delicious.
White miso vs red miso
The most common types of miso paste are white miso, red miso, and light-colored miso.
White miso or shiro miso is made by boiling soybeans and a good amount of rice, which gives its light color, mildly salty and sweet taste, and delicate flavor. On the other hand, red miso is darker in color, saltier than white miso, and has a more intense flavor because of a higher amount of soybeans and longer fermentation.
This recipe uses white miso paste, but feel free to use whatever type of miso paste you have on hand. If you want a richer flavor for your garlic miso chicken thighs, use red miso paste instead.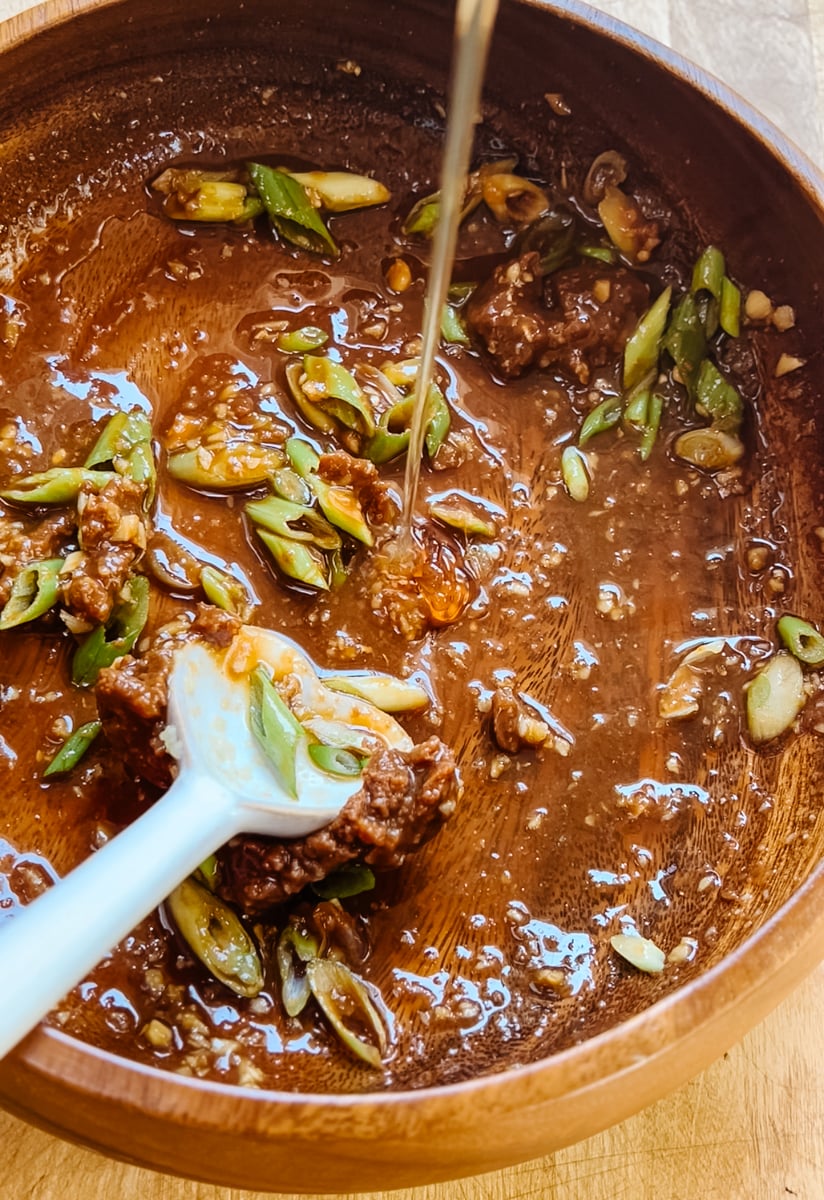 How to make Garlic Miso Chicken Recipe in the oven
If you don't have an air fryer at home, you can bake the chicken in the oven.
Oven Instructions:
Preheat the oven to 375 degrees. Line the baking tray with parchment paper. Give the garlic miso chicken a nice massage with all ingredients except green onions for a couple of minutes. Bake for 30-35 minutes flipping halfway. Broil for 2 minutes to get a nice crust and color.
Note that the internal temperature of the meat should be 165 degrees. Cooking bone-in chicken might require more time. Always use an instant-read thermometer.
---
Ingredients and Substitutions
Boneless skinless chicken thighs – You can use any cut of chicken pieces for this miso chicken dish. Skin-on chicken thighs **, skinless chicken breasts, chicken drumsticks, or chicken wings.
**When using the skin on, make sure to wipe the chicken skin side up with a paper towel to get a nice crispy skin.

White miso paste – Any miso paste would work. I prefer either white or red miso paste. Whenever buying soy products, always choose organic.

Mirin – Great staple to have in your pantry. Mirin perfectly compliments the miso and sake in a lot of dishes. You can find this in your local grocery store. If you can't find one, you can substitute rice vinegar or lemon juice. However, use 1 tablespoon instead of 3 tablespoon as mirin requires.

Honey – Any sweetener would work. I prefer honey or maple syrup for this dish because it gives the perfect balance to the garlic and miso.

Soy sauce – Use low sodium or tamari.

Garlic – You would need at least 3 garlic cloves, but I like to put 4 to 5 for more flavor! Only use fresh garlic for this recipe. I wouldn't recommend garlic powder.

Green onion – is a great aromatic. Use the white part in the marinade and the green part as garnish.
---
---
Equipment
Parchment paper or aluminum foil (for easy clean up)
Heavy oven-proof cast iron pan (if baking in the oven)
Baking dish if using the oven
How to meal prep, store, and reheat miso chicken thighs
MEAL PREP – This garlic miso chicken recipe is fantastic for meal prepping. In the fridge, keep the marinated chicken in an airtight container for up to 2 days. Air fry and serve. Easy peasy!
---
STORE – Place the garlic miso chicken in an airtight container and store it in the refrigerator for up to 4 days. To freeze them, place them in a freezer-safe container or plastic bag and store them in the freezer for up to 3 months.
---
REHEAT – There are a few options to reheat the miso chicken thighs. The first option is to reheat them in the microwave. Place the miso chicken in a microwave-safe dish and heat them on high for 1-2 minutes or until they are heated through.
---
What to serve with miso chicken
Miso chicken is best served with the following:
Steamed vegetables like bok choy
Sauteed spinach
Steamed jasmine white rice, brown rice, or quinoa
---
---
Here are some other recipes you will love!
Garlic Miso Chicken FAQs
What is miso paste made of?
Miso paste is made from soybeans, rice or barley, salt, and koji (a type of fungus) that is allowed to ferment for a period of time.
What does miso glaze taste like?
Miso glaze has a rich, savory, and slightly sweet flavor with a deep umami taste that is characteristic of miso paste. It adds depth of flavor and complexity to dishes such as fish, chicken, and vegetables.
How do you use miso paste?
Miso paste can be used as a flavoring agent in a variety of dishes, including soups, stews, marinades, dressings, and sauces. It can also be spread on toast or used as a dip for vegetables.
What goes with miso?
Miso pairs well with a variety of ingredients such as tofu, mushrooms, seafood, chicken, vegetables, noodles, rice, and more. It can be used to add depth and complexity to a range of dishes, from soups and stews to stir-fries and marinades.
Print
Garlic Miso Chicken
Delicious and quick Garlic Miso Chicken recipe. Ready in 25 minutes. No need to marinade, combine and cook. Now, that's a perfect recipe for your weekly recipe rotation.
Total Time:

25 minutes

Yield:

2

-4

1

x
8 boneless skinless chicken thighs
4 tbsp minced green onions (4 green stalks)
3 tbsp white miso paste
3 tbsp mirin
1 tbsp honey
1 tbsp soy sauce
1 tbsp minced garlic
Garnish
green onions
cilantro
Instructions
Combine marinade ingredients. In a medium-sized bowl, add the mirin, miso, honey, soy sauce, and garlic. Mix and add the chicken.
Massage the chicken well with the miso sauce.
Line the air fryer tray or basket with parchment paper or aluminum foil.
Place the chicken in a single layer. Put all the miso glaze on the tray. This will ensure a juicy chicken.
Air fry at 320 degrees for 20 minutes, flipping halfway. Broil the chicken for 2 minutes to get a nice crust/color. The internal temperature of the meat should be 165 degrees.
Baste it with leftover pan juices, serve, and enjoy!
Notes
OVEN – Preheat the oven to 375 degrees. Line the baking tray with parchment paper. Bake for 30-35 minutes flipping halfway. Broil for 2 minutes to get a nice crust and color. The internal temperature of the meat should be 165 degrees. Cooking bone-in chicken might require more time. Always use an instant-read thermometer.
Author:

Carmen

Prep Time:

5 minutes

Cook Time:

20 minutes

Category:

mains

Method:

air fryer

Cuisine:

asian
Keywords: miso chicken, garlic miso chicken, easy chicken recipes, air fryer
---
Here are other air fryer recipes you need to try
Honey Ginger Chicken (Easy 20-Minute Air Fryer Chicken Recipe)
Honey ginger chicken is a delicious Asian dish that combines honey with the zesty kick of fresh ginger to make the most scrumptious air fryer chicken thighs recipe. The marinade infuses the chicken thighs with a perfect balance of flavors, resulting in a juicy and aromatic main course.
Air Fryer Teriyaki Salmon
Simple recipe, with big flavors. This Teriyaki  Salmon Air Fryer is the best salmon dish ever. It is great for busy weeknights, ready in 20 minutes or less. Salmon cooks in 8 minutes.
Teriyaki Air Fryer Boneless Chicken Thighs
Skip the bottled stuff! Make my easy teriyaki sauce. It is the most versatile, probably most famous Asian sauce in the world. To cut time, use bottled teriyaki sauce.