This family favorite Filipino chicken adobo recipe is to die for! The tender chicken is tangy, savory, and sweet and has just the perfect balance of flavors. There is a reason why this dish is arguably the most popular Filipino dish out there. Some might even say it is the national dish of the Philippines.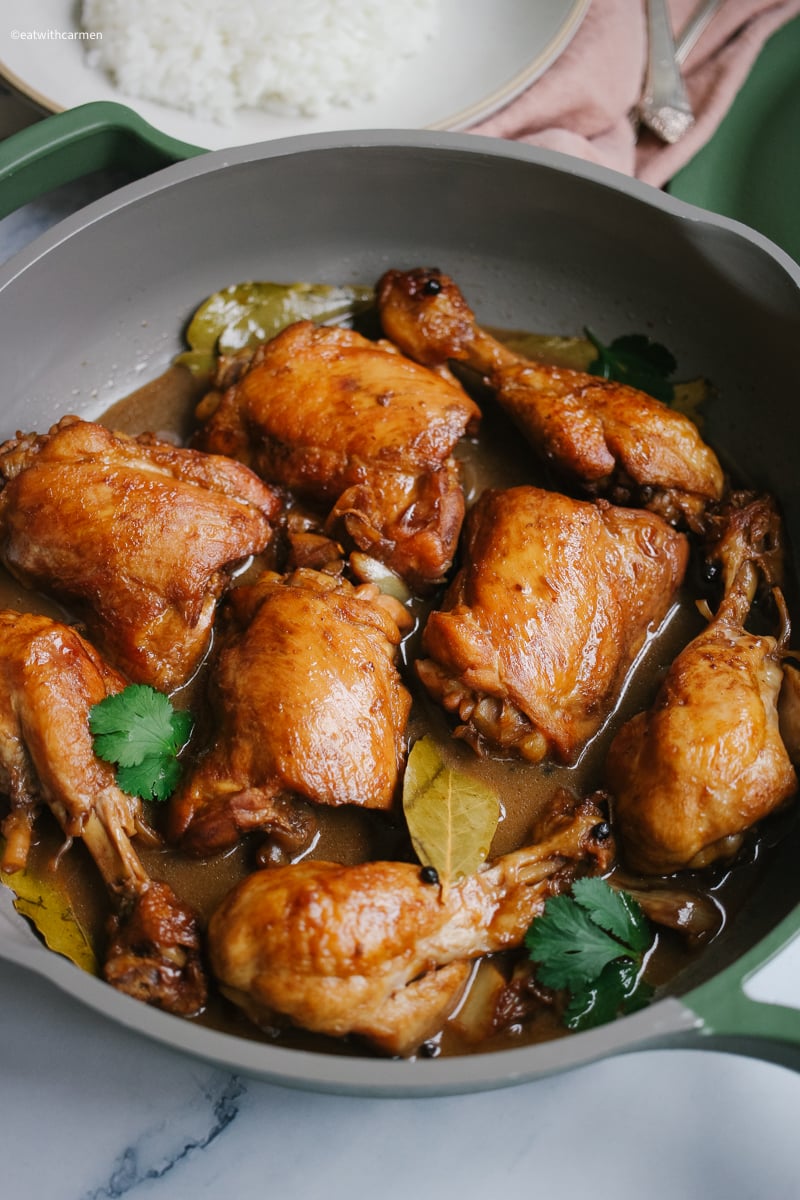 ---
Adobo only requires a handful of ingredients you may already have in your pantry. One of the reasons why I love it is it's quick, easy, and oh so comforting. The chicken is simmered in a vinegar, soy sauce, and garlic mixture until it is fall-off-the-bone tender.
Every Filipino household has its own recipe. This is my chicken adobo recipe, which doesn't require any marinating and comes out glorious in such a short amount of time.
Try out some of my favorite Filipino chicken recipes like chicken sisig with chicharron, grilled chicken barbecue, and chicken afritada.
---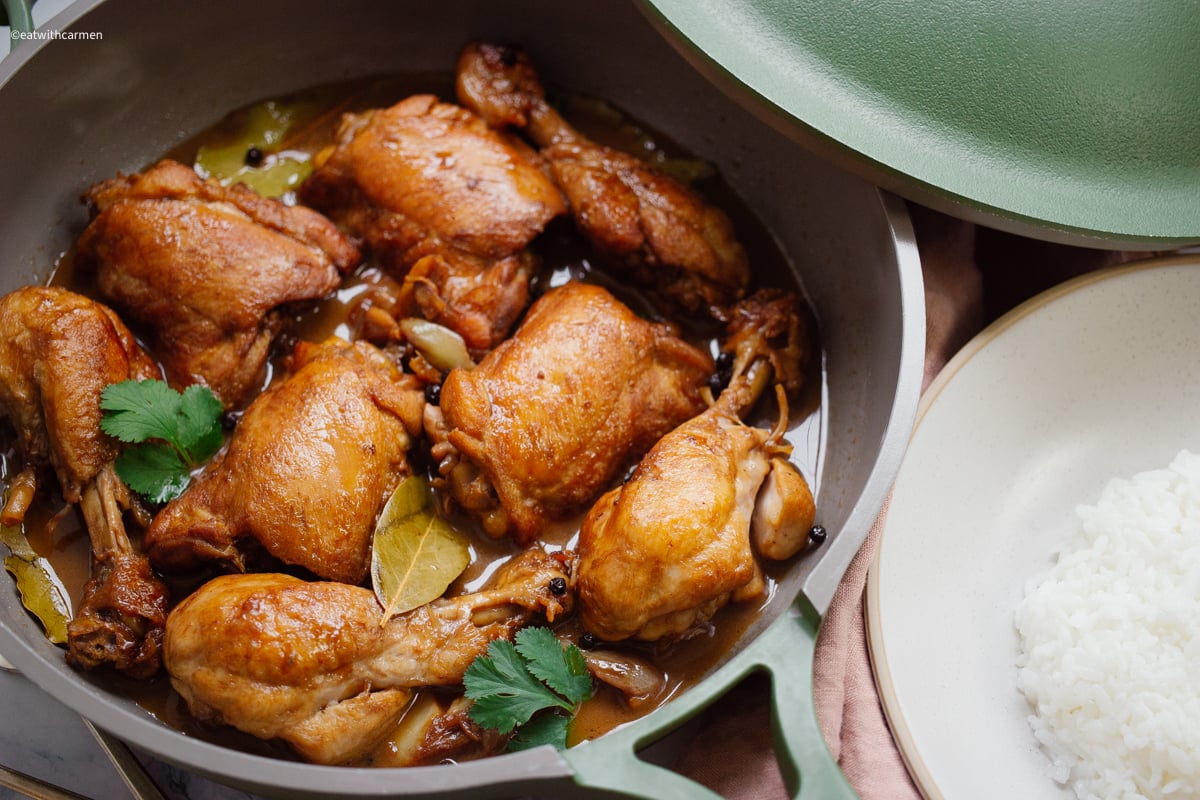 What is Filipino chicken adobo?
Chicken adobo is a classic Filipino dish made with everyday ingredients like chicken, vinegar, soy sauce, and garlic. Filipinos typically use chicken, pork, or a combination of those in adobo dishes. The adobo sauce imparts a tangy, savory, and sweet flavor and gives the chicken a beautiful brown exterior.
Most Filipino dishes take a while to prepare because they require marinating or have multiple steps. This chicken adobo recipe is quite different in that you can have a finished dish on the table in under an hour with very little prep work.
Its name comes from the Spanish word "adobar," meaning "marinade," "sauce" or "seasoning."
Creating the perfect chicken adobo is about finding the right flavors. The key is to use good quality vinegar, which will provide the dish with its signature tangy sauce. I also like adding a touch of sugar to balance the flavors. You can even add some crushed red pepper flakes if you like a little bit of heat.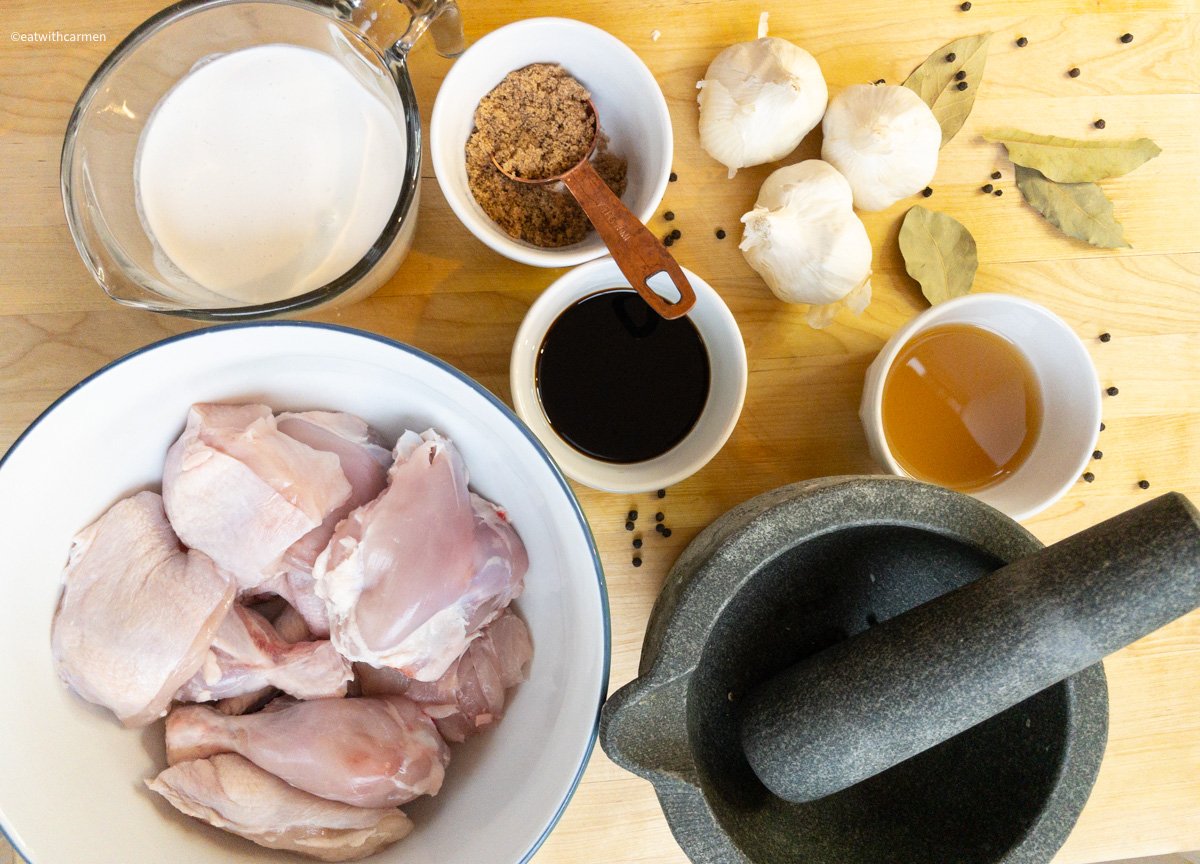 ---
What I love about this chicken adobo recipe
Aside from the fact that it's delicious, I love cooking chicken adobo because it is one of the quickest and easiest Filipino chicken recipes to make.
No need to marinate - Less time waiting for the flavors to meld together makes your cooking time shorter.
One-pot meal - No need for multiple pots and pans. Everything can be cooked in one skillet.
Budget-friendly - The ingredients are affordable and accessible for most people.
Perfect for meal prep - This dish reheats well and can be made ahead of time, making it great for busy weeknights or meal prepping.
---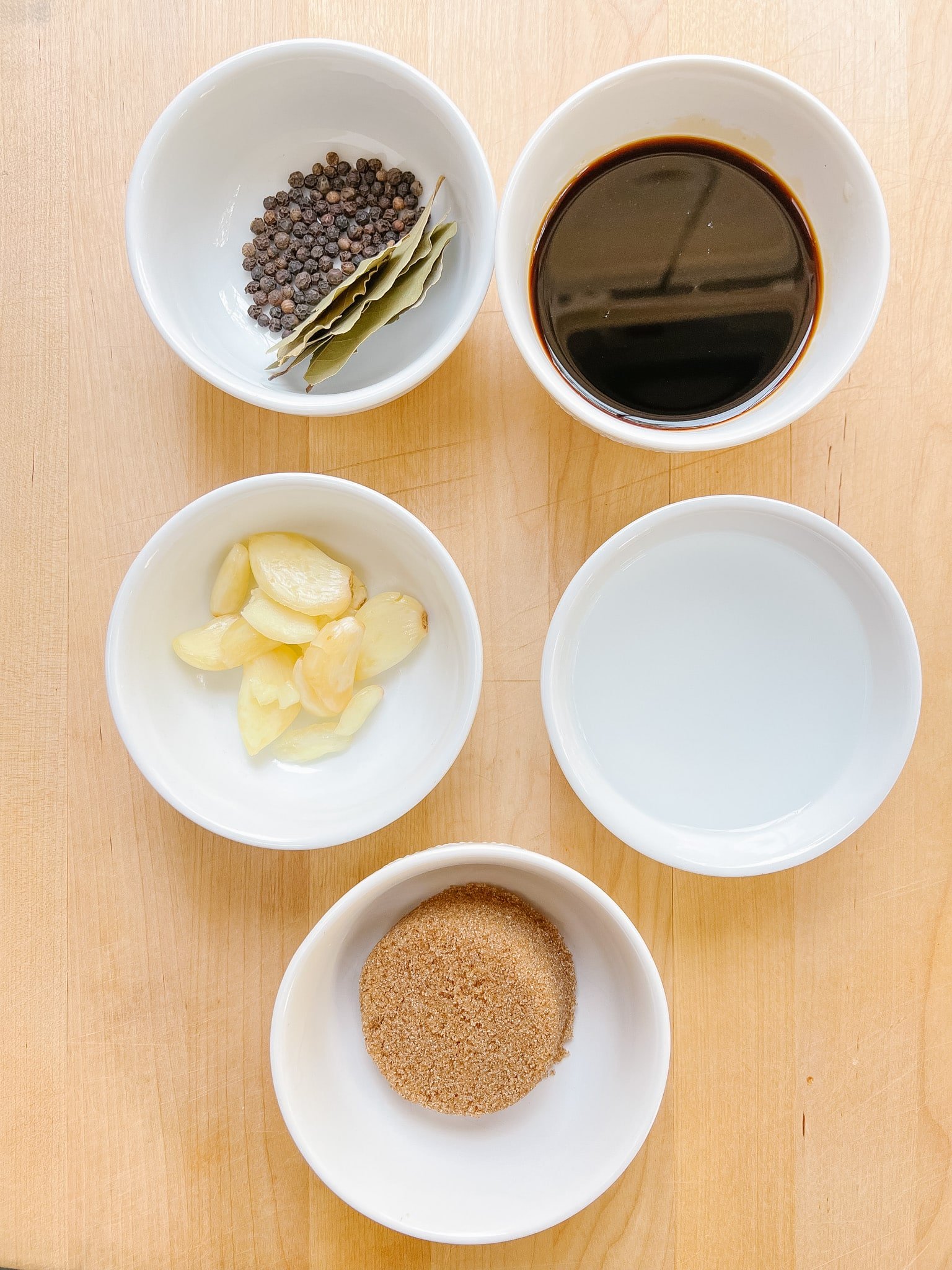 ---
How to cook Filipino chicken adobo in different ways
While chicken adobo is traditionally cooked on the stovetop, there are different ways you can cook it.
Slow Cooker - Brown the chicken on all sides in a pan then transfer to a slow cooker. Add the rest of the ingredients and cook on low for 8 hours.
Pressure Cooker / Instant Pot - On saute mode, brown the chicken on all sides, add all the ingredients, and set to cook on pressure for 20 minutes. Once done, remove the lid (naturally and safely) then go back to saute mode and let the sauce reduce.
Skillet with Lid on the Stovetop - For best results, I would cook it this way. Instructions are on the recipe card.
---
Chicken Adobo Ingredients

Skinless chicken thighs - Dark meat such as chicken thighs, chicken drumsticks, or wings works best for this sort of recipe. The best part for me would be chicken thighs. Remove the skin to make it less soggy. However, keep the skin if you like it. Note that chicken breasts would dry out, and they won't be as juicy.

Cane vinegar - I like to use a Filipino brand such as Datu Puti - cane vinegar. However, you can use any white vinegar or apple cider vinegar. Do not use rice vinegar as it is too sweet.

Soy sauce - I like to use low-sodium for this recipe. Other recipes call for dark soy sauce, however, it can be quite salty, so low-sodium or even regular soy sauce keeps it balanced. Tamari works too. Do not use coconut aminos.

Brown sugar - Brown sugar is a must. It balances the salty and tangy sauce.

Garlic - Use as much garlic as you want. I like adding 8-10 whole cloves.

Black whole peppercorns - Crucial ingredient so don't skip this!

Bay leaf - I use dry for convenience. I have used fresh bay leaves in the past, but I cannot taste the difference.

Variation: One of my favorite ways to cook adobo is with COCONUT MILK - I use a whole can. It is called adobo sa gata in the Philippines and it comes out creamy and delicious. Try my recipe here.
Equipment
Large skillet with a lid, or if you want to be fancy, use a large dutch oven.
Instant Pot - if you want to use a pressure cooker
spatula or tongs
---
Try this other Chicken Adobo version Adobo Sa Gata
Filipino Chicken Adobo (Adobo sa Gata)
---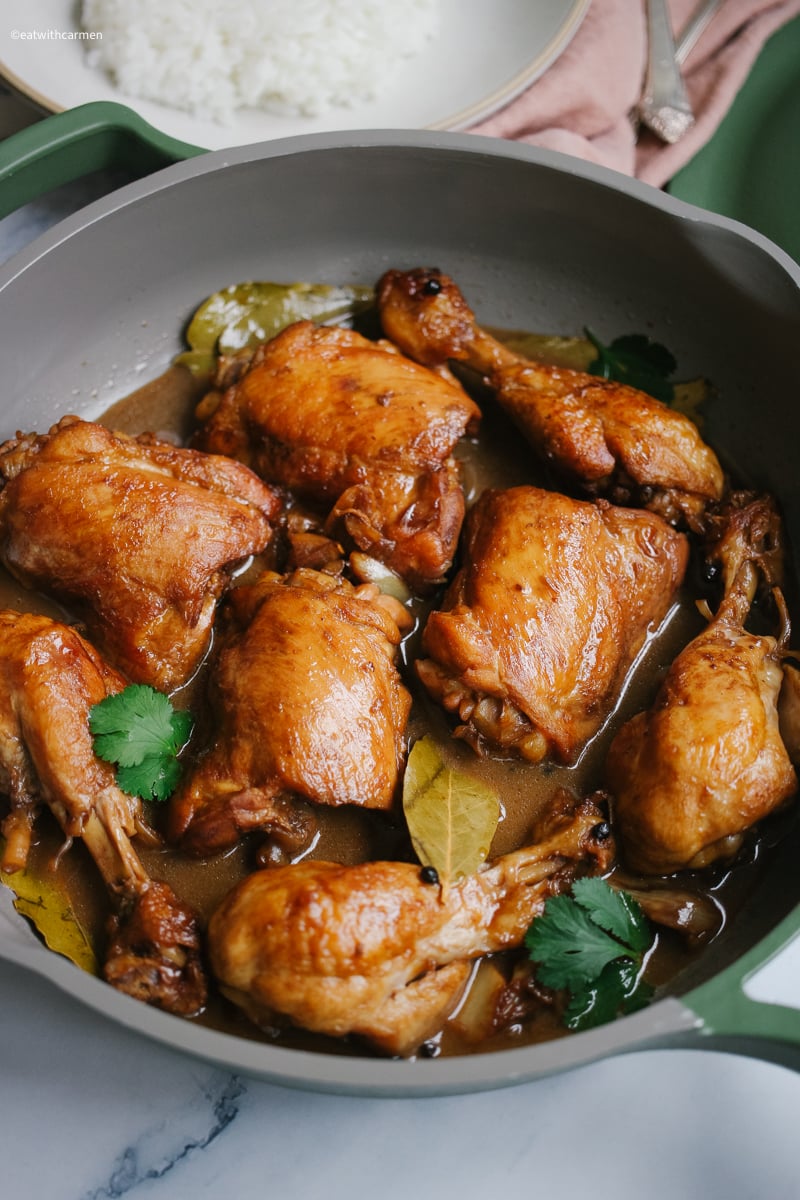 ---
Serve adobo chicken with
This flavorful chicken dish is best served with white rice. However, I have had this with brown rice and steamed vegetables. Cauliflower rice would also be great with this and a lot healthier. You can also serve it with hard-boiled eggs for extra protein!
---
How to store and reheat chicken adobo
Chicken adobo is best enjoyed fresh, but leftovers are just as delicious. I always make a big batch in order to have leftovers.
Store in an airtight container and keep in the fridge for up to 5 days.
Reheat it in the microwave or stovetop until warmed through.
---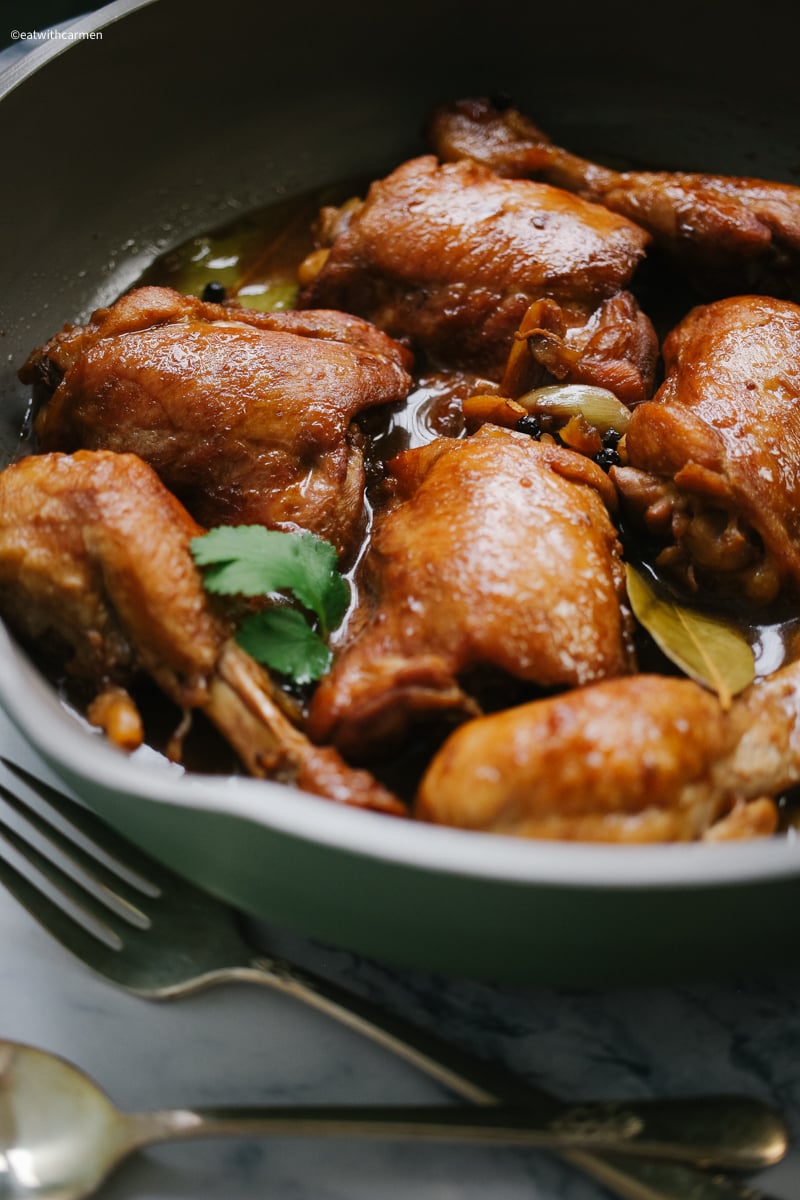 ---
Filipino Chicken Adobo FAQs
What is Filipino adobo sauce made of?
The classic Filipino adobo sauce is made with vinegar and soy sauce simmered in garlic, bay leaves, and black peppercorns. Some recipes call for sugar or some type of sweetener to help balance out the acidity from the vinegar. You can adjust the ratio based on your taste preferences to make it more sour, sweet, or salty.
What does Filipino adobo taste like?
Filipino adobo has a unique combination of tangy, savory, salty, and slightly sweet flavors. The vinegar and soy sauce give the dish its signature tanginess, while the garlic, bay leaves, and black peppercorns provide depth of flavor. Depending on the recipe, chicken adobo can be slightly sweet, sour, or salty.
Print
Classic Filipino Chicken Adobo
This family favorite chicken adobo recipe is to die for! The tender chicken is tangy, savory, and sweet and has just the perfect balance of flavors. There is a reason why this dish is arguably the most popular Filipino dish out there. Some might even say it is the national dish of the Philippines.
Total Time:

35 minutes

Yield:

4

-6

1

x
8-10 skinless chicken thighs
½ cup of water or chicken stock
½ cup white vinegar
⅓ cup low sodium soy sauce
⅓ cup lightly packed brown sugar
8 garlic cloves
1 tbsp black peppercorns
6 bay leaves
avocado oil for searing the chicken
salt and pepper
Instructions
Add some oil to a pan.
Brown the chicken on both sides. Lightly salt and pepper on both sides. Remove the chicken pieces once browned.
Remove some of the oil. I like to use paper towels.
Add the garlic and black peppercorns. Saute for a minute until it is fragrant.
Add the rest of the ingredients and add back the chicken.
Let it come to a boil, and turn the heat down to a low-medium simmer. Cover with lid.
Cook for 20 minutes on a low simmer.
Open the lid and turn the heat up to medium-high heat to let the braising liquid reduce to your desired consistency for about 5-7 minutes.
Serve and enjoy!
Author:

Carmen

Cook Time:

35 minutes

Category:

asian

Method:

braising

Cuisine:

asian
Keywords: filipino chicken adobo, filipino chicken adobo recipe, adobo chicken