Make this crowd-pleasing Chicken Katsu Air Fryer Recipe in less than 30 minutes! This mouthwatering Japanese dish combines tender, golden brown chicken cutlets with a tangy and savory sauce that will leave you wanting more. With the help of your best friend, the air fryer, you can achieve a crispy texture without the need for excessive oil. So much better and healthier for you! 
Jump to:
What is Chicken Katsu?
Chicken Katsu is a popular Japanese dish that consists of breaded and deep-fried chicken cutlets. The chicken is typically pounded or sliced thin, coated in flour, dipped in beaten eggs, and then coated with panko breadcrumbs. The dish is commonly served with a side of white rice and accompanied by a special chicken katsu sauce known as Tonkatsu sauce, which adds a sweet and savory flavor.
What is Chicken Katsu Sauce made of?
Chicken Katsu sauce, also known as Tonkatsu sauce, is a savory and slightly sweet condiment that is commonly served with Chicken Katsu and other Japanese dishes. It is a key component in enhancing the flavors of the crispy chicken or pork cutlets.
The sauce typically has a thick and smooth consistency with a rich umami taste.
The main ingredients of Chicken Katsu sauce include:
Ketchup: Provides a tangy and slightly sweet base for the sauce.
Worcestershire Sauce: Adds depth of flavor with its blend of vinegar, molasses, spices, and anchovies.
Soy Sauce: Contributes a salty and savory element to the sauce.
Sugar: Balances the flavors and adds a touch of sweetness.
Garlic Powder: Infuses a hint of garlic flavor into the sauce.
---
Why you will love this Air Fryer Chicken Katsu Recipe
Cooking Chicken Katsu in an air fryer is definitely better than deep-frying methods. Here are a few reasons why using an air fryer is considered better:
Healthier Option: Air frying requires significantly less oil compared to deep-frying. It is significantly better for you.

Reduced Mess: Deep-frying can be messy and leave behind oil splatters and lingering odors.

Time-Saving: Air fryers typically cook food faster than other traditional methods. This chicken is cooked for 15 minutes. Unreal! 
Versatility: Air fryers can be used for a variety of dishes beyond Chicken Katsu. They are capable of frying, baking, grilling, and roasting, making them a versatile kitchen appliance that can be utilized for multiple cooking needs.
---
What you need
---
See recipe card for quantities.
---
How to make air fryer chicken katsu
Make the chicken katsu sauce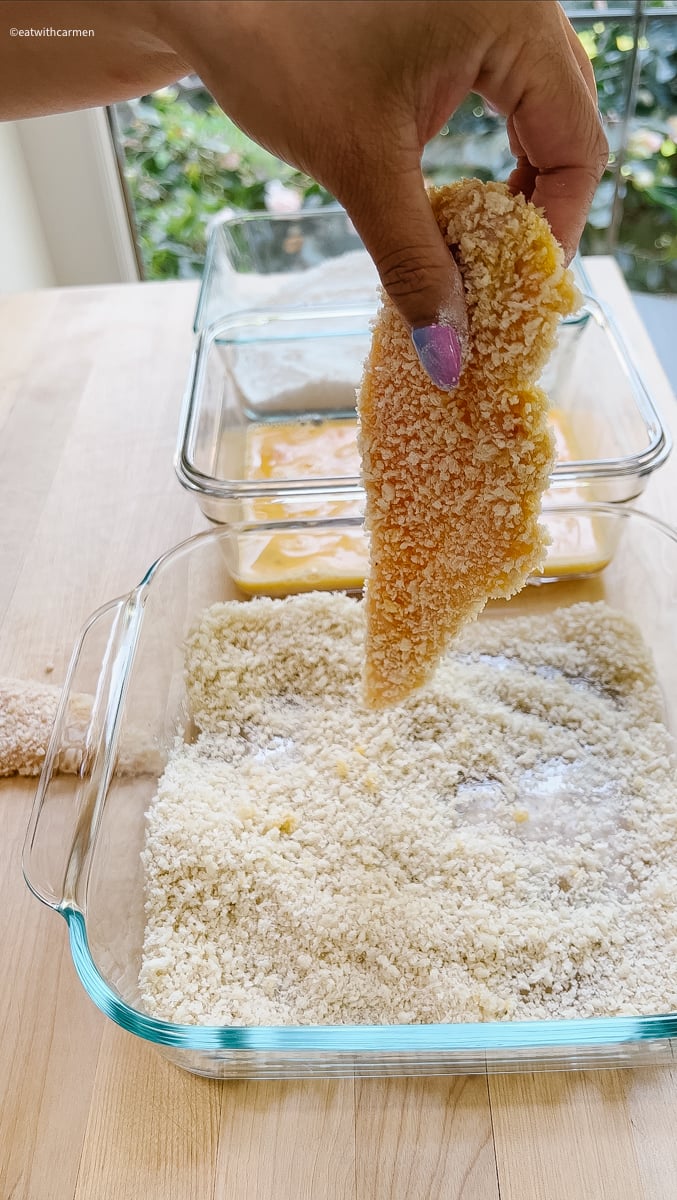 Dredge the chicken breasts in flour, eggs, and panko.
Breaded Chicken Katsu
Air Fry – directions at the recipe card below
---
---
Substitutions
Chicken:

2 boneless skinless chicken breasts (about 1 pound): You can substitute with boneless skinless chicken thighs or tofu for a vegetarian version.


Salt and Black Pepper:

1 teaspoon salt: Replace with kosher salt or sea salt.
1 teaspoon black pepper: White pepper.


Avocado Oil:

1 tablespoon avocado oil: Substitute with vegetable oil, canola oil, or any other neutral-tasting cooking oil.


All-Purpose Flour:

⅓ cup all-purpose flour: Gluten-free flour blends like rice flour or almond flour can be used for a gluten-free version.


Eggs:

3 eggs: For an egg-free option, you can use a mixture of 3 tablespoons of ground flaxseed mixed with 9 tablespoons of water. Let it sit for a few minutes until it thickens and becomes gel-like.


Panko Breadcrumbs:

1 cup Japanese panko breadcrumbs: Replace with regular breadcrumbs, crushed cornflakes, crushed crackers, or crushed potato chips for a crunchy panko coating.


Worcestershire Sauce:
Low-Sodium Soy Sauce:
Sugar:

2 tablespoon sugar: Substitute with honey, maple syrup, agave nectar, or any other sweetener of your choice. Adjust the amount based on your desired level of sweetness.


Garlic Powder:

1 teaspoon garlic powder: Use 2 cloves of minced garlic or 1 teaspoon of garlic paste as a substitute for garlic powder.
---
Equipment
---
How to store and reheat
Storage:

Chicken Katsu: Allow the leftover chicken katsu to cool completely. Place it in an airtight container or wrap it tightly in aluminum foil. Store it in the refrigerator for up to 3-4 days.
Chicken Katsu Sauce: Transfer the sauce to a sealed container. Store it in the refrigerator for up to 1-2 weeks.


Reheating Chicken Katsu:

Oven Method: Preheat your oven to 350 degrees Fahrenheit (175 degrees Celsius). Place the Chicken Katsu on a baking sheet lined with parchment paper. Bake for about 10-15 minutes until heated through and crispy.
Air Fryer Method: Preheat your air fryer to 350 degrees Fahrenheit (175 degrees Celsius). Place the Chicken Katsu in a single layer in the air fryer basket. Heat for 5-7 minutes until warmed and crispy.
---
---
3 Top Tips for Success
Here are the Top 3 Tips for achieving success when making this Chicken Katsu recipe:
Properly Bread the Chicken: To achieve a crispy and well-adhered breading on the chicken, follow these steps:

Ensure the chicken pieces are evenly coated with flour, shaking off any excess before proceeding to the next step.
Dip the floured chicken into the beaten eggs, making sure it is fully coated.
Press the chicken firmly into the panko breadcrumbs to ensure they adhere well and form a crunchy and crispy coating.


Use an Air Fryer Wisely: When using an air fryer to cook Chicken Katsu, consider the following:

Preheat the air fryer: Preheating helps to achieve a crispy exterior by quickly starting the cooking process.
Spray avocado oil: Lightly coat the chicken with avocado oil before air frying to promote browning and enhance the texture.
Flip and spray: Flip the chicken halfway through the cooking time and spray avocado oil on the other side. This ensures even browning and crispiness on both sides.


Balance the Tonkatsu Sauce Flavors: When preparing this Homemade Chicken Katsu Sauce, keep these tips in mind:
Let it sit: Allow the sauce to sit for a while after preparing it. This allows the flavors to meld together and enhances the overall taste.
FAQ
How is chicken katsu different from fried chicken?
Chicken Katsu is different from fried chicken as it is typically breaded with panko breadcrumbs, resulting in a lighter and crispier coating. Fried chicken often uses a different breading or batter, leading to a thicker and heavier texture. Additionally, Chicken Katsu is commonly served with a unique Tonkatsu sauce, adding a distinct flavor profile.
How to air fry pre-breaded chicken?
Preheat the air fryer. Place the pre-breaded chicken in a single layer in the air fryer basket. Cook at the recommended temperature and time stated on the package or recipe, flipping halfway through for even browning.
Does breading work in an air fryer?
Yes, breading works well in an air fryer. The hot air circulation in the air fryer helps to crisp up the breaded coating, providing a similar result to traditional frying but with less oil.
Related
Looking for other recipes like this? Try these:
Pairing
These are my favorite dishes to serve with Air Fryer Chicken Katsu:
---
Print
Chicken Katsu Air Fryer with Homemade Tonkatsu Sauce
Total Time:

25 minutes

Yield:

4

pieces of chicken katsu

1

x
Chicken
2 boneless skinless chicken breasts (about 1 pound), sliced in half
1 teaspoon salt
1 teaspoon black pepper
1 tablespoon avocado oil
⅓ cup all-purpose flour
3 eggs
1 cup panko breadcrumbs
Chicken Katsu Sauce (Tonkatsu Sauce)
½ cup ketchup
3 tablespoon Worcestershire sauce
2 tablespoon low-sodium soy sauce
2 tablespoon sugar
1 tsp garlic powder
Instructions
CHICKEN:

Slice the chicken breasts in half. You should have 4 pieces. Season with salt and pepper on both sides and set aside. 

Preheat the air fryer to 400 degrees. 

Prepare the flour, beaten eggs and panko breadcrumbs in separate shallow bowls. 

Dredge the chicken pieces in the flour. Shake off the excess flour. 

Dredge in beaten eggs then the panko breadcrumbs. Press the chicken in the panko breadcrumbs to make sure the panko adheres well. 

AIR FRY:

Spray avocado oil on top of the chicken, then air fry the breaded chicken breasts for 15 minutes at 400 degrees – flip halfway and spray more avocado oil on the other side to ensure both sides get a crispy texture. 

CHICKEN KATSU SAUCE:

While the chicken is air frying, make your tonkatsu sauce. Combine the ketchup, Worcestershire sauce, soy sauce, sugar and garlic powder. Mix well and set aside. 

Rest the chicken, slice and top with chicken katsu sauce. Serve with rice.  
Equipment
Author:

Carmen

Prep Time:

10 minutes

Cook Time:

15 minutes

Category:

mains

Method:

air fry

Cuisine:

asian
Keywords: chicken katsu air fryer, chicken katsu in air fryer, chicken katsu
Food safety