This Asian Salmon Air Fryer is my go-to healthy meal during the week. It's quick, easy to make and doesn't require a ton of ingredients. Cooking it in the air fryer, makes it tender inside and creates a nice crust.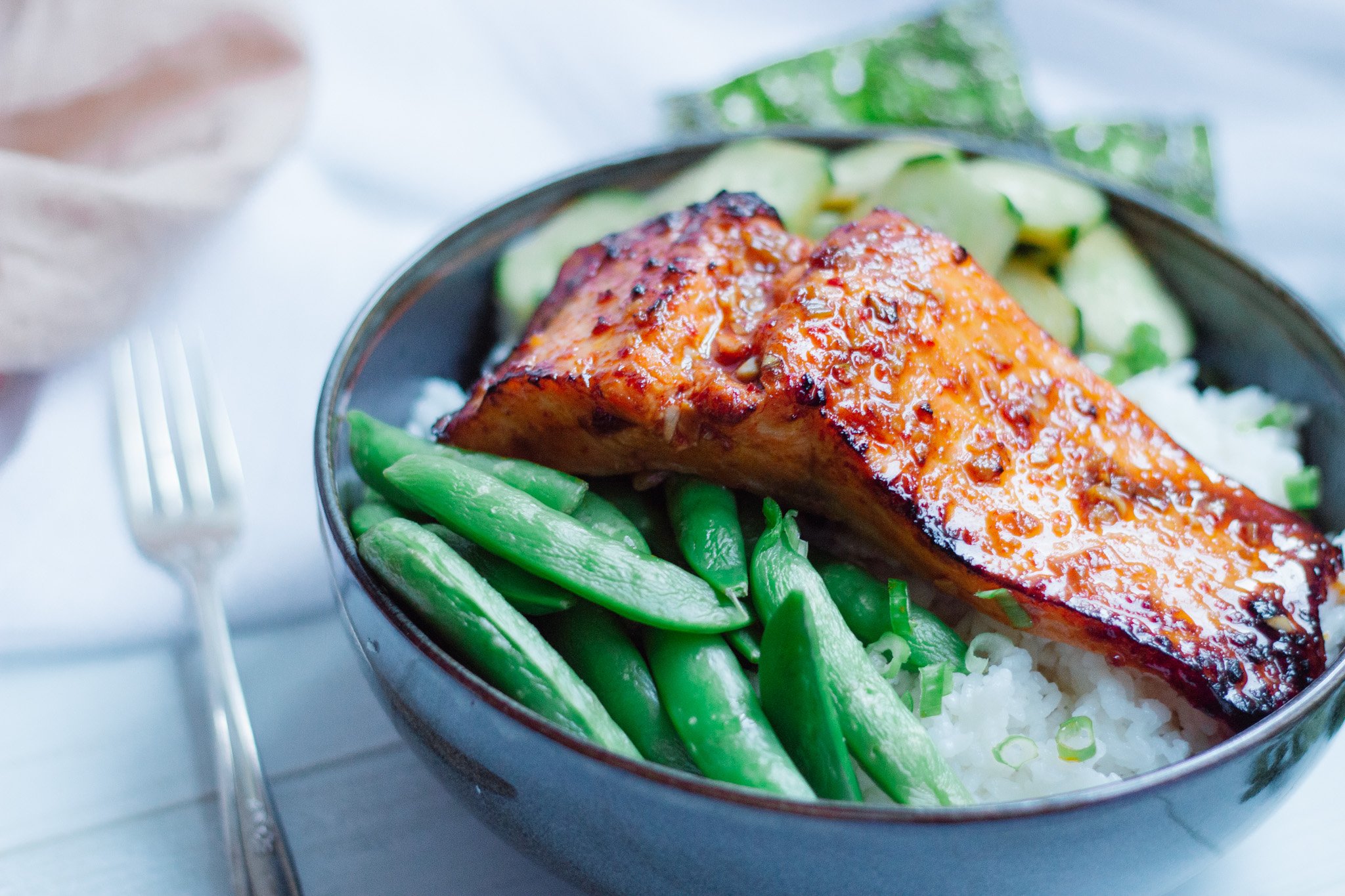 This will be one of many salmon rice bowls recipe I will be sharing here because they are so dang good! This Asian Salmon recipe is not only tasty, but it's such an easy recipe to make as well!
The perfectly balanced flavors of slightly sweet and savory, with a little bit of heat, make this dish glorious at every bite. The sauce features simple ingredients like sesame oil, soy sauce, and ginger. It is so effortless, combine and air fry.
Don't have an air fryer? Use your oven! It will take longer than 12 minutes, but it will still come out perfect. Ideal for busy weeknights because this simple Asian salmon recipe is a quick and healthy dinner
Don't let the garlic chili sauce (chili oil) scare you, you can control the spice level – just full of umami flavor. Feel free to make it as spicy as you want. This is your salmon, not mine.
If you're hosting a dinner party, this makes a great appetizer or main course. It's always a big hit with salmon lovers! But what I really love about this recipe is that it's so healthy and packed with protein. Salmon is such a great source of omega-3 fatty acids, which are great for heart health.
If you're looking for more Asian salmon recipes, try out my timeless Teriyaki Salmon Air Fryer recipe.
Ingredients and Substitutions
All the ingredients in this healthy recipe are quite accessible. You can get them at any grocery store.
Spring salmon – For Asian-style salmon, you can use any cut of salmon. Sockeye tends to be the fishiest so I like to go for the Atlantic or Spring for that nice salmon taste. I prefer to use fresh salmon over previously frozen.
Garlic, fresh ginger & green onions – Aromatics are the backbone of my recipes. They give so much flavor that cannot be replicated. I highly recommend not leaving these out.
Soy sauce – I used low-sodium soy sauce. Use any type of soy sauce you want such as Tamari for my gluten-free pals.
Lemon juice – Lime juice or rice vinegar would work. Anything acidic and tangy for this Asian salmon marinade.
Honey – The Asian-inspired sauce wouldn't be the same without a touch of sweetness. You can use any sweetener you want: brown sugar, white sugar, maple syrup, or agave syrup.
Chili oil – I use my own Garlic Chili Oil for this recipe, however, use whatever chili oil you have. If you don't have chili oil, use red pepper flakes or even sambal and sriracha sauces. However, chili oil is preferable.
Sesame oil – Sesame oil has such a distinct flavor that's hard to replicate. If you don't have any on hand, you could leave it out.
Avocado oil – This is my preferred oil because it has a high smoke point and neutral flavor. Put some to add moisture and prevent the salmon from drying out. Feel free to use whatever oil you have, such as olive oil or vegetable oil.
Asian Salmon Oven Baking Time
Not everyone has an air fryer. It's crazy, but air fryers tend to take up a ton of space. I get it!
Good for you, this recipe will still work perfectly if the salmon bakes in the oven!
The salmon can be cooked in a preheated oven at 425 degrees for 20 minutes or until the internal temperature is 145 degrees F. Use a sheet pan and line it with parchment paper or aluminum foil.
---
---
Serve this Asian salmon recipe with
Brown rice or white rice – I like to keep it simple and serve this over a bed of rice and steamed vegetables. You could also get fancy and make a sushi rice bowl! But, really any type of rice will work great.
Cauliflower rice – If you want to lighten up the meal, then use cauliflower rice or zucchini noodles in place of the traditional grain. Both are delicious options that are low in carbs but still tasty!
Green beans or any steamed or sauteed vegetables – Keep it healthy and add in some extra vegetables. You could steam or saute some broccoli, green beans, or asparagus to serve on the side.
Simple green salad or my cucumber salad recipe – This would be a great side dish because it's light, refreshing, and has a similar flavor profile to the salmon.
---
How to store and reheat
I would highly suggest you make a huge batch, as the leftover salmon is so good. I love doing the @emilymariko salmon with seaweed trick on TikTok. It is so satisfying.
To store, use an airtight container. It will last in the fridge for 2 to 3 days.
You can use a microwave when you're ready to reheat, but the salmon might dry out a bit. I prefer using the frying pan method.
---
Print
Asian Salmon Air Fryer – ready in 12 minutes
This Asian Salmon recipe is so good! I am not just saying that. The perfectly balanced flavors make this dish glorious at every bite. It is so easy to make, just combine and air fry. Don't have an air fryer? Use your oven! It will take longer than 12 minutes but it will still come out delicious.
Total Time:

12 minutes

Yield:

2

1

x
8 –10 ounces Spring Salmon (cut into 2)
2 cloves of garlic
1 stalk of green onions (white and green separated)
2 tbsp soy sauce
1 tbsp of fresh lemon juice
1 tbsp honey
1 tbsp chili oil*
1 tbsp sesame oil
2 tsp of julienned ginger
Garnish:
Sesame seeds
Roasted seaweed
Instructions
Slice your salmon into 2 pieces.
Prep ingredients. Mince the garlic, julienne the ginger, and slice the green onions.
In a bowl, combine all the ingredients and mix.
Line your air fryer tray or basket with parchment paper or foil.
Place your salmon fillets and put the sauce on top.
Air fry at 375 degrees for 7-8 minutes. Broil for 2-3 minutes for that gorgeous crust on the top.
Serve and enjoy!
Notes
*You can use any chili oil or chili crisp
Author:

Carmen

Prep Time:

2 minutes

Cook Time:

10 minutes

Category:

main

Method:

air fry

Cuisine:

asian
Keywords: asian salmon recipe, asian salmon air fryer, asian salmon