More often than not, the kitchen is the heart of any home. For those looking to make their kitchen experience even better, an induction cooktop is a great way to go. But with the high temperatures and fast heating that come with it, you need the right type of skillet to ensure its safety and longevity. Here are my favorite 7 best cast iron skillets for induction cooktops.
---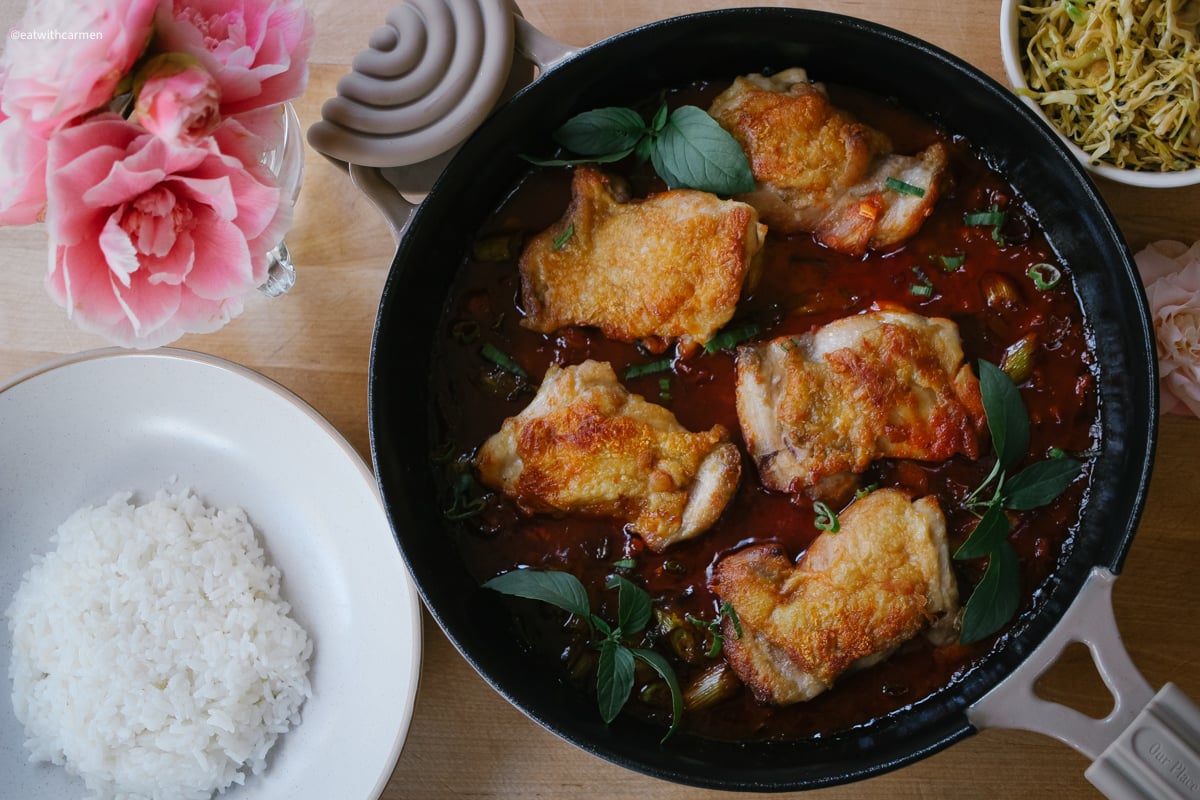 ---
Whether you're a home cook like me or an experienced professional, having quality cookware can make all the difference in cooking time and efficiency. A good cast iron pan is a must for anyone who uses induction burners as it provides excellent heat retention properties that no other material can match. The best-cast iron skillet for induction cooktop is reliable, durable, and can last a lifetime if taken care of properly.
---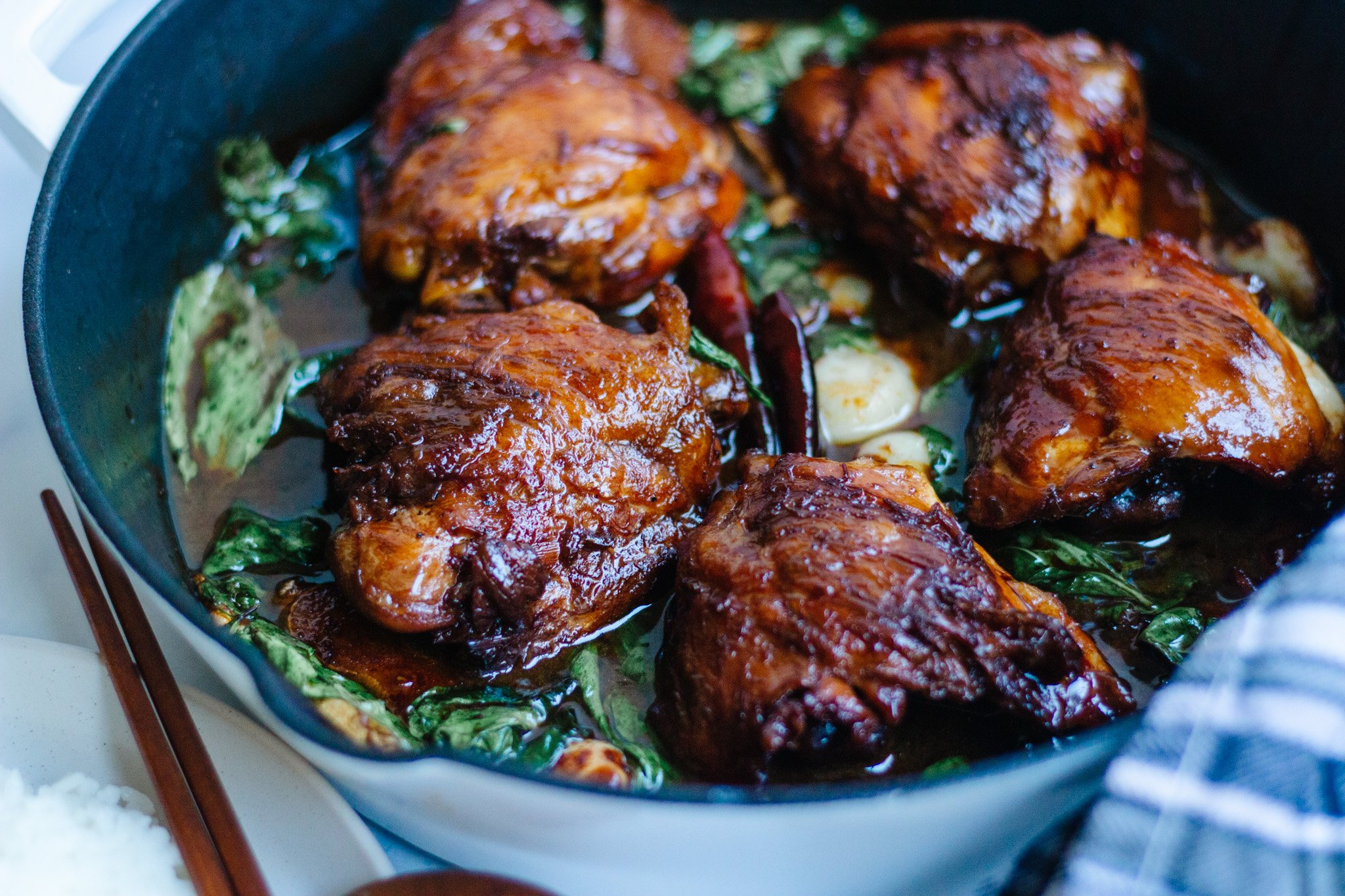 ---
Since induction cooktops by generating an electromagnetic field, only certain materials are compatible with them. Cast iron cookware is one of the few materials that can be used for induction cooking as it is a great heat conductor, allowing you to cook evenly and quickly. But not all cast iron skillets are made equal, and not all will work with your induction stovetop.
While there are many types of cast iron pans on the market, some brands offer superior performance and craftsmanship. We've rounded up 7 of the best cast iron skillets for induction cooktops in 2023 that you can trust to last.
---
Benefits of using an induction cooktop
Energy-efficient: Induction stovetops use less energy than traditional gas or electric cooktops due to their efficient heating capabilities.

Faster heating times: Since cast iron is an excellent heat conductor, it heats up quickly and efficiently so less time is spent with the stove on.

Easy cleaning and maintenance: There are no exposed heating elements on an induction cooktop, so all you need to do is wipe away any spills or splatters with a damp cloth.

No risk of burning yourself: Induction cooktops are designed with safety in mind, so there's no risk of getting burned from touching the cooking surface.

Accurate temperature control: The temperature of an induction cooktop can be controlled precisely, allowing you to get the perfect results every time, even with high heat.

Improved air quality: Induction cooking uses less energy and generates fewer emissions than a traditional heat source like gas or electric stoves.
---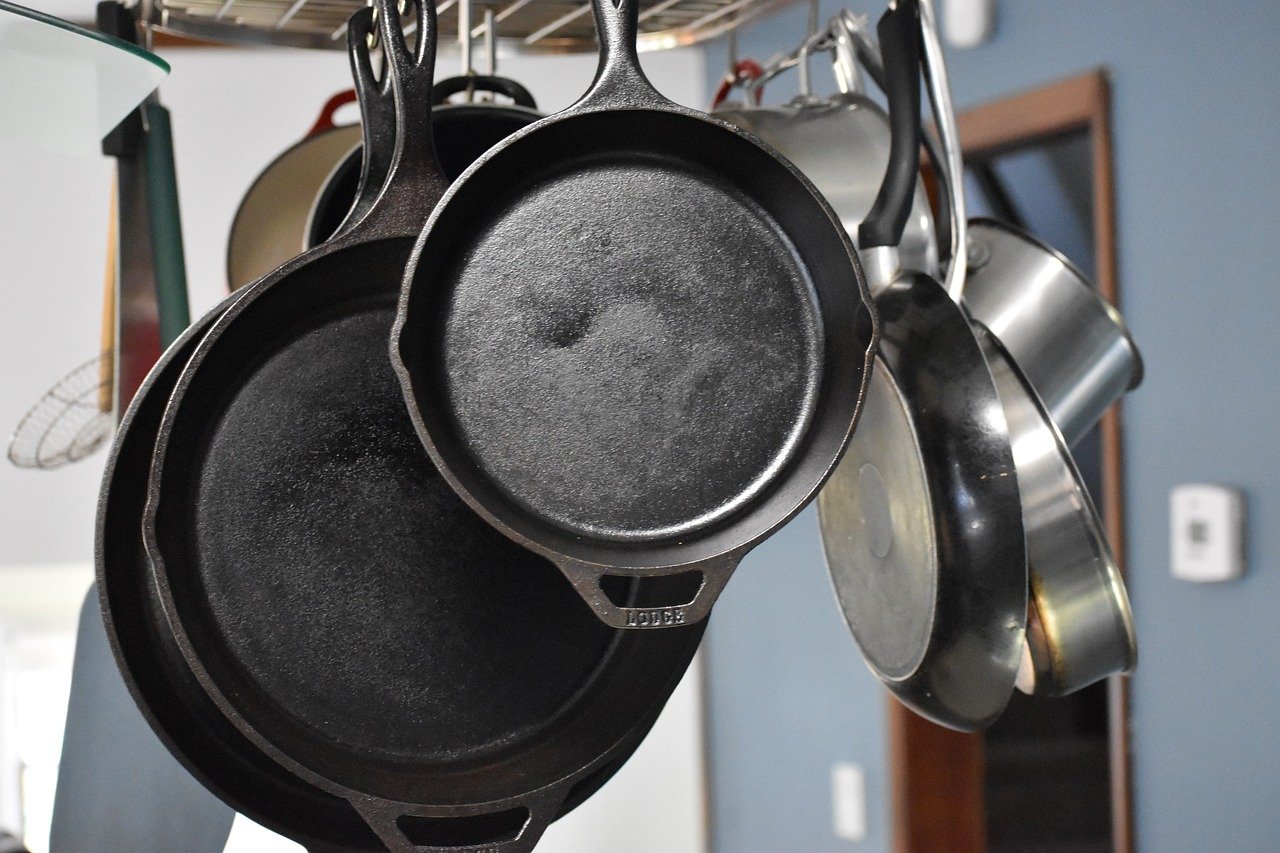 ---
My 7 top cast iron pan picks for induction cooktops
Price: $160 to $300
Inspired by the Spanish paella pans that you can display on the table, this 10-inch Cast Iron Frying Pan from Zwilling Staub is one of the most popular choices for induction that also works with all other cooktops. It features a black matte interior with an enamel coating that is perfect for searing, sautéing, caramelizing, and frying with its good heat retention properties.
The cast iron work is robust and durable enough to withstand high temperatures of up to 500°F without damaging its nonstick surface. With two pouring spouts on either side for easy draining, this enameled cast iron is ideal for those who value convenience and comfort in their kitchen. Lastly, the double-handle design allows you to easily maneuver this heavy-duty pan when cooking or serving.
Don't have a barbecue but still want those perfect grill marks? The Zwilling Staub also has a lot of grill pan options that also work well on induction!
Pros: Pre-seasoned, works well on all cooktops, dishwasher-safe
Cons: Relatively expensive
Other sizes available: Many sizes and colors available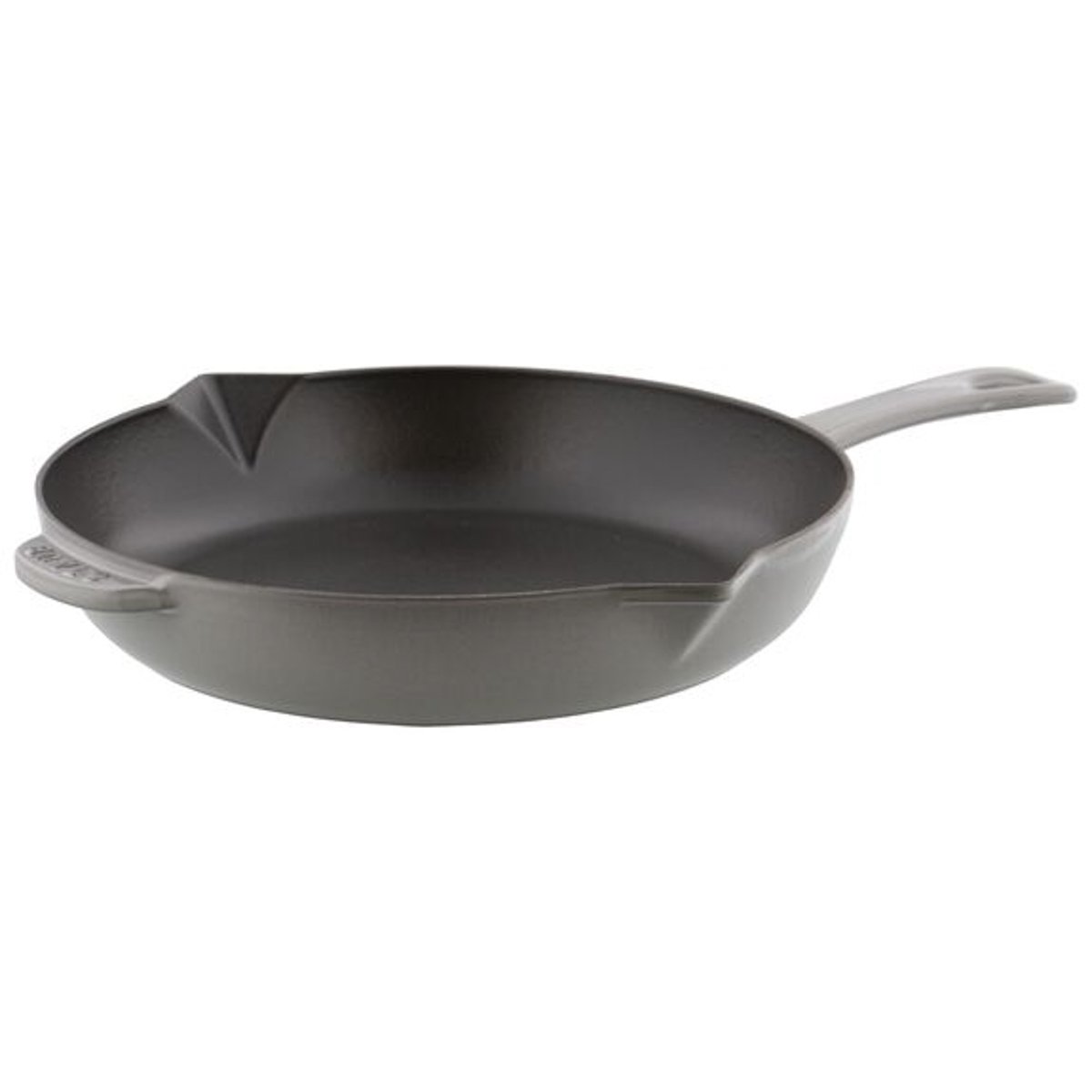 Price: $220 to $250
There's no denying that Le Creuset is one of the most well-known names in cookware. With its superior heat retention and distribution, this 10 ¼-inch cast iron skillet is ideal for searing steaks, sautéing vegetables, and pan-frying fish or chicken without any hotspots or burning.
Even without its iconic design, the interior is finished with a nice black satin enamel coating that requires no seasoning while still providing a natural nonstick surface that will last for years. It can be used on all types of cooktops, including induction, with no issues.
As the lightest cast iron by quart on the market, the two handles provide a secure and comfortable grip without straining your arms while the two pouring spouts on either side make draining your food easy and mess-free. Top all of these with a lifetime warranty and you have yourself the best induction cookware out there!
Pros: Pre-seasoned, lifetime warranty, lightest cast iron by the quart
Cons: Most expensive on the list, dishwasher-safe but handwash recommended
Other sizes available: Many sizes and colors available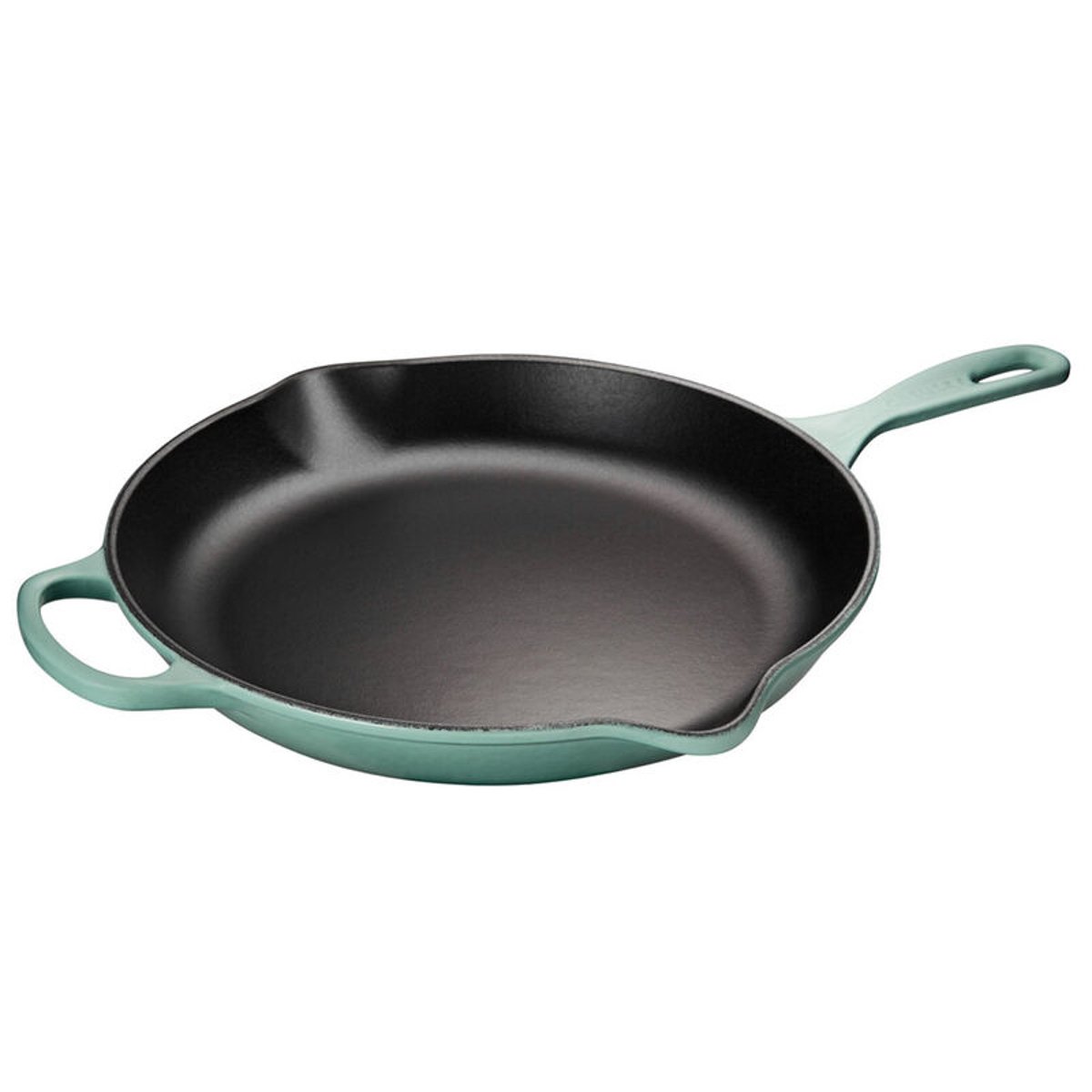 ---
Price: $24 to $40
Who hasn't even heard about the Lodge brand? The company has been making cast iron skillets for over a century, and its 10.25-inch cast iron skillet is one of the most reliable options on the market. This pre-seasoned model works with all cooktops, including induction cookers, and even in the oven, grill, or over an open flame.
The design is simple yet classic, with a flat cooking surface and two handles for easy maneuvering. Although it doesn't have a coating of any kind, it comes pre-seasoned with vegetable oil for an easy start in your kitchen. It allows food to slide off easily without the need for extra oil. With proper care and regular use to maintain the seasoning, this classic American skillet won't let you down.
Pros: Cheapest on the list, pre-seasoned, works well on all cooktops
Cons: Not dishwasher-safe, uncoated cast iron, heavy
Other sizes available: Many sizes available. Only comes in original black.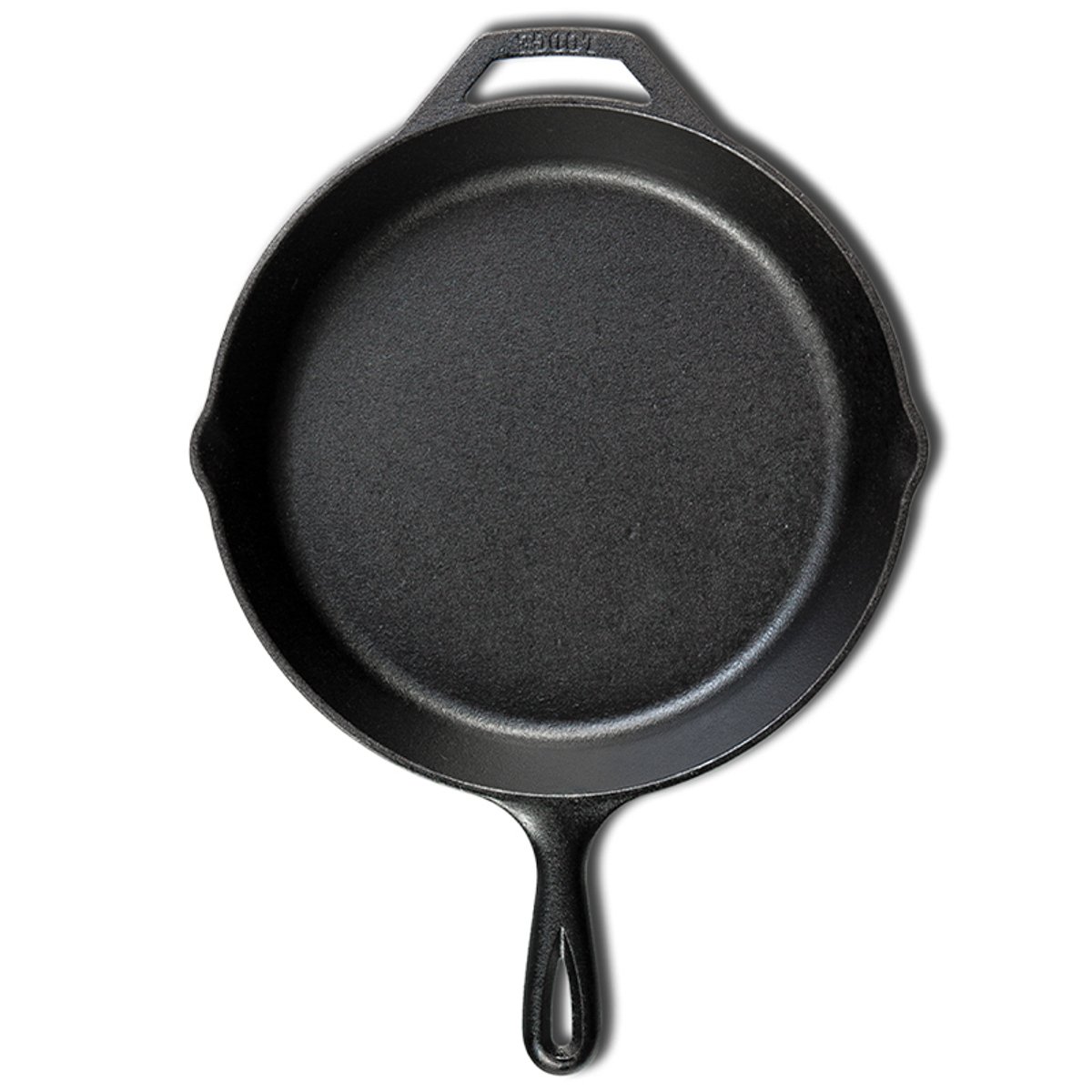 ---
Price: $210
With its patented 8-in-1 multi-functionality, Our Place's Cast Iron Always Pan is a must-have for any home cook looking to reduce clutter in their kitchen. Perfect for induction cookers to handle complex recipes and daily meals with ease, this skillet's clever design allows you to sear, braise, broil, sauté, roast, bake, grill, or serve with just one pan.
The cookware set comes with a modular, high-visibility glass lid, beechwood spatula, and custom hot grips that can make cooking easier, safer, and more enjoyable. Designed to work with all types of cooktops, including your induction cooker, its toxin-free non-stick coating ensures that your food slides out with ease and that cleaning is a breeze.
As an all-in-one pan solution, you can also purchase custom-designed accessories to make this pan even more versatile. From their take on the classic splatter guard (Fearless Fry) to a conical shape lid (Tangine) for slow cooking, these add-ons will take your cooking game to the next level and help you create mouth-watering dishes with no fuss.
Pros: Comes in a set (lid, spatula, and grips), pre-seasoned, unique design
Cons: Expensive, no pour spouts, heavy, one size only
Other sizes available: One size only. Many colors available.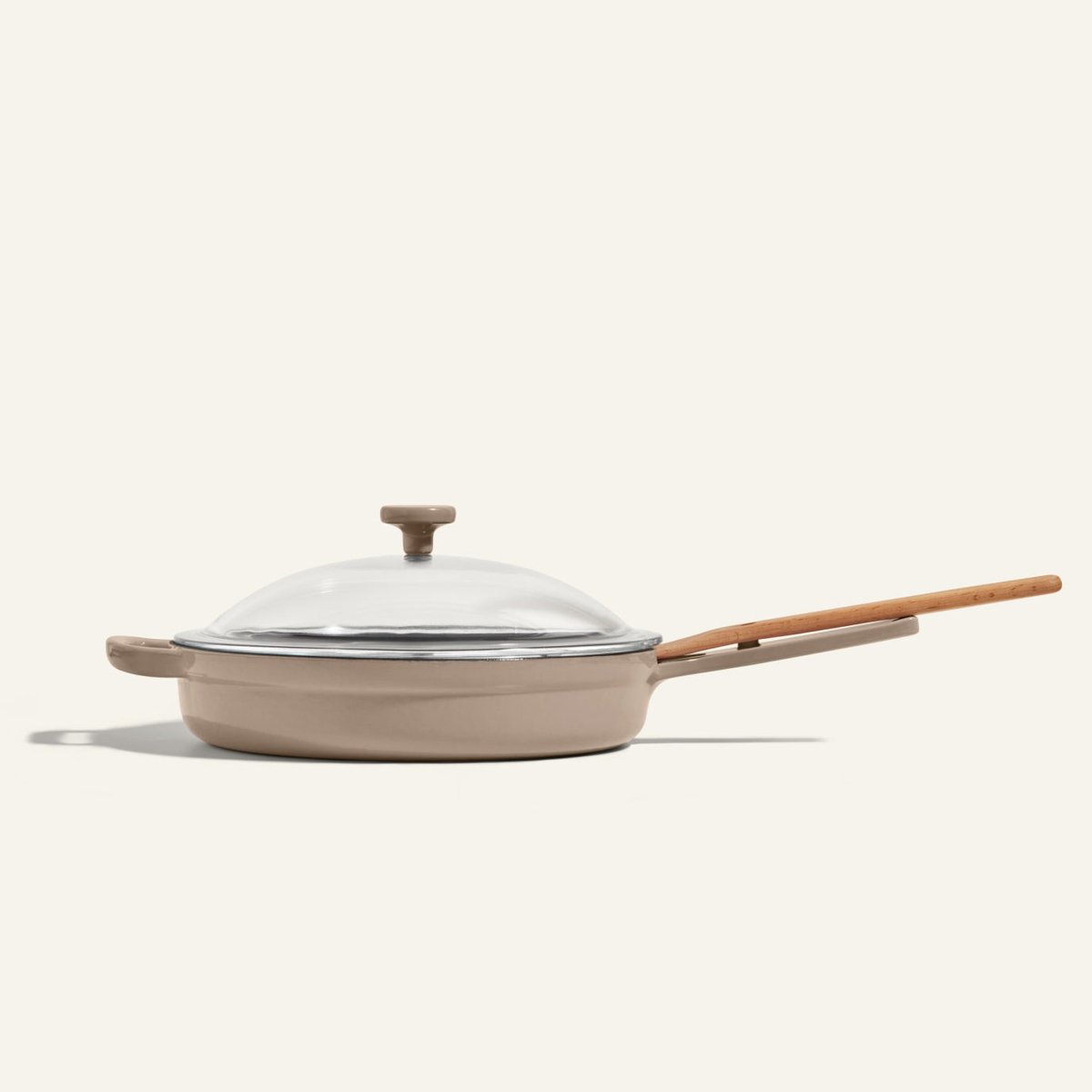 ---
Price: $90 (sale) to $105
Regardless of whether you're an amateur or a professional cook, Kana's 10-inch Ultimate Skillet is a top pick for anyone who wants to get the most out of their induction cooker. This skillet is designed with an extra-wide cooking surface that can accommodate a generous portion of food and a thick base that distributes heat evenly for consistent results every time.
The sleek black satin interior of this cast iron skillet is finished with enamel using a modern spray technique that makes it nonstick, easy to clean, and low maintenance. Similarly, the exterior is coated with two layers of painted enamel for added durability and better performance.
True to their commitment to sustainability, Kana makes use of durable yet environment-friendly materials such as 40% recycled cast iron to build their nonstick pans and TOMATEC® enamel for the exterior coating. And the best part? You get a lifetime warranty, so this might just be your last new cookware.
Pros: Reasonably priced, pre-seasoned, sustainable, lifetime warranty, dishwasher-safe, works well on all cooktops. MY FAVORITE.
Cons: A bit heavy, one size only
Other sizes available: One size only. Many vibrant colors available.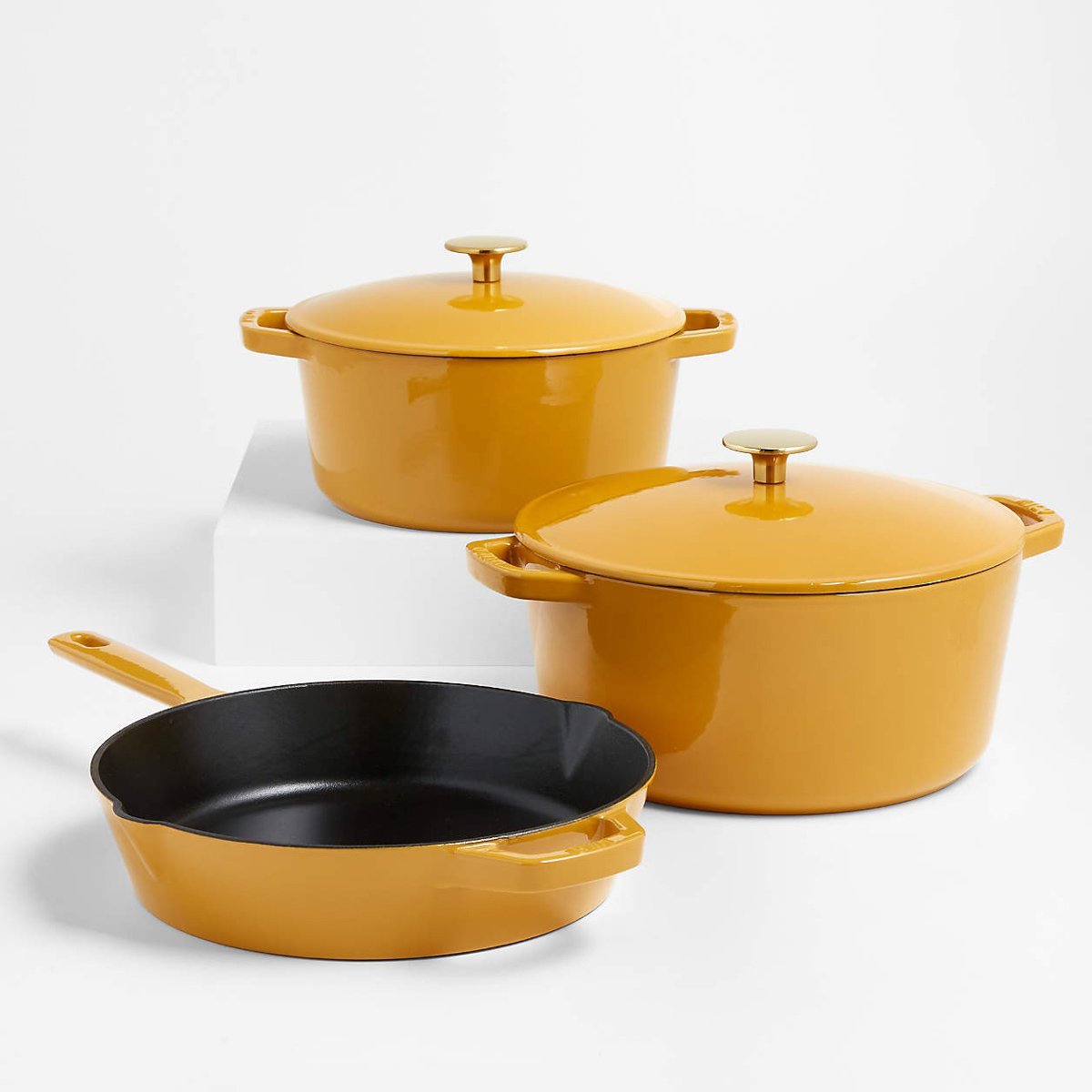 ---
Price: $200 to $300
Made In's 11-inch Enameled Cast Iron Skillet is among the top induction-compatible cookware because of its unique combination of materials that transforms the way you cook.
Since most induction cooktops require a flat bottom pan, this is one of the frying pans that feature an ergonomic design with sloped sides that make it easier to flip your food without making a mess. Its light weight and stainless steel handle also make for a comfortable cooking experience, allowing you to lift and maneuver the pan with ease. And it's pre-seasoned with a mixture of vegetable oil to keep your food from turning into a hot mess.
Every purchase comes with a lifetime warranty, giving you peace of mind that it will last for years in your kitchen. You even have the option to buy a pre-seasoned skillet that's ready to use or an unseasoned one that you can season yourself.
Pros: Made in France, Hand-enameled Cast Iron, Induction compatible, Oven safe up to 580F, Helper Handle, Comes in 4 colors
Cons: Handwash only
Other sizes available: 11″ only. Many colors availble.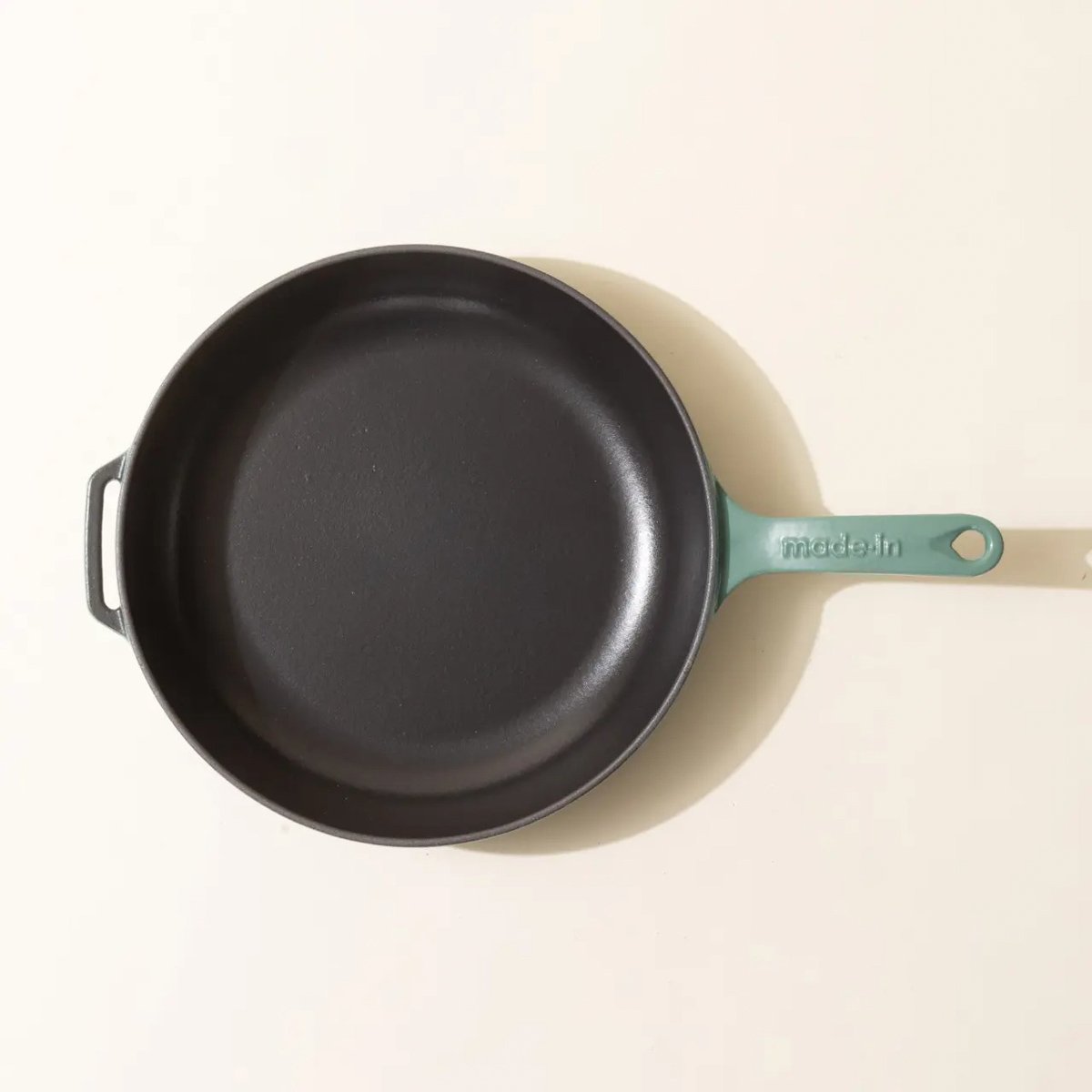 ---
Price: $54
If you're looking for a budget-friendly cast iron skillet with induction compatibility, the Amazon Basics Pre-Seasoned 15-inch Cast Iron Skillet won't disappoint for its price and size. Like most cast-iron pans today, it features a pre-seasoned surface, so you can go straight to cooking when it's time to test it out.
Made of heavy-duty cast iron that provides even heat distribution and superior heat retention, this pan is compatible with all cooktops, including induction, gas, electric, ceramic, oven, and even on a barbecue. Its nonstick coating prevents food from sticking and makes cleaning up after cooking much easier as well.
The large size provides great leverage when prepping large portions of food or cooking meals that require more space to fry and sauté. Lastly, this cast iron skillet is oven-safe up to 500°F and is backed by a one-year limited warranty from Amazon Basics.
Pros: Most affordable, pre-seasoned, works well on all cooktops,
Cons: Handwash only, 1-year limited warranty, uncoated, one size only
Other sizes available: One size and color only.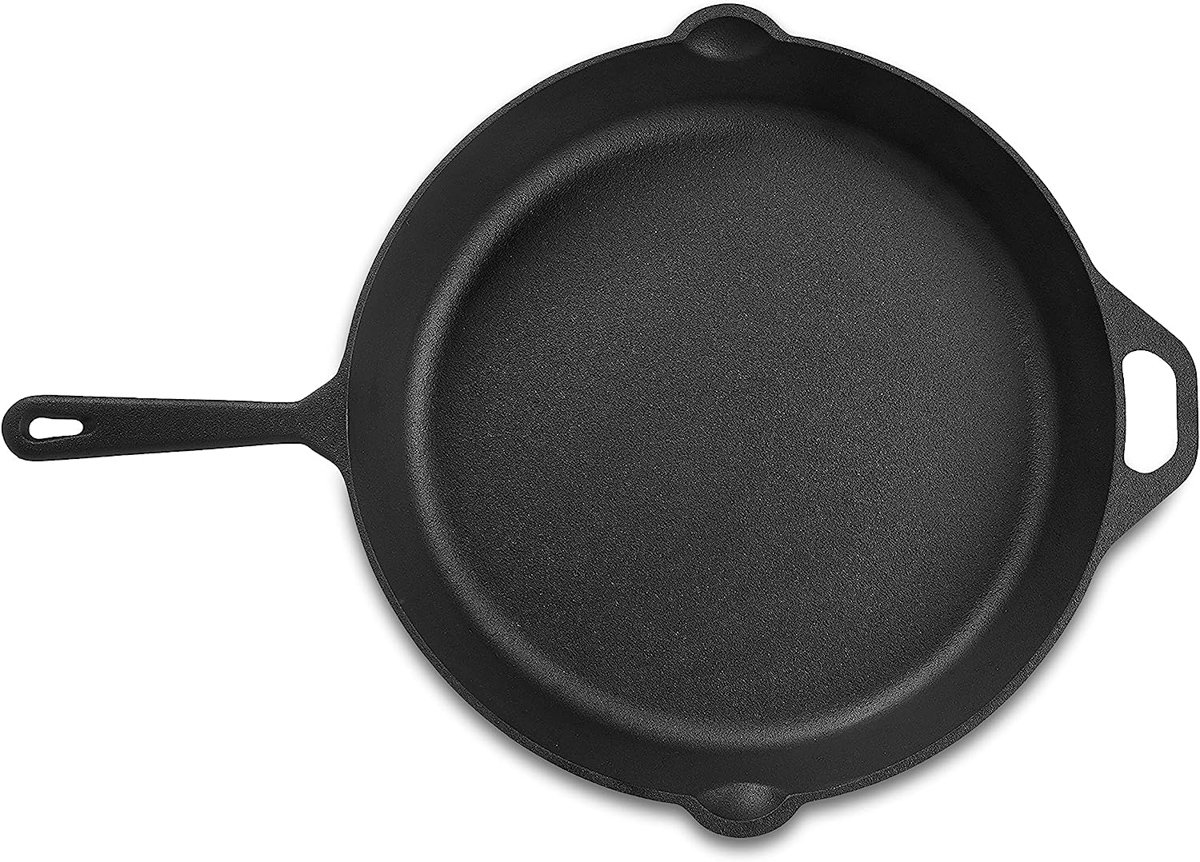 ---
How to care for cast iron skillet
To make your cast iron pans last you a lifetime, do not wash them in the dishwasher. Avoid using soap on them unless you really have to. If you do use soap to wash them, you will need to coat them lightly with oil. Here are the top 3 tips to care for your cast iron:
Use a Cast Iron Soap and Oil bundle to care for your cast iron skillets.
Let it cool before washing. Use salt and lemon to remove leftover food.
Lightly oil your cast iron after every wash with a neutral oil. I use a paper towel with a little bit of oil.
Here are some cleaning products for your cast iron skillets
---
How to season cast iron pan
Purchasing a quality cast iron skillet is only half the battle. To get the most out of your pan, you'll need to season it properly, usually once a month. Seasoning is the process of coating your pan with oil and allowing it to form a protective layer on the metal with heat. It helps prevent rusting over time and makes your pan non-stick.
While some brands now come pre-seasoned, it still doesn't hurt to season them yourself, especially if you've been using them for a while.
To season your cast iron skillet correctly:
Preheat your oven to 350°F.
Rinse your pan with hot water and dry it thoroughly.
Spread a thin layer of oil with a high smoke point into the surface of the skillet using either paper towels or a cooking brush. Don't use too much oil as it can make your pan sticky.
Place your skillet upside down on an oven rack in your preheated oven and bake it for at least an hour.
Turn the oven off and let your pan cool in the oven before removing it.
---
My personal favorite cast iron skillet is Milo by Kana
From traditional cast-iron skillets to modern enameled varieties, there is no shortage of options when it comes to finding the best cast-iron skillet for induction cooktops.
Whether you're looking for an all-purpose option or something more specialized like those designed specifically for searing steaks or fish, everything in our list above comes pre-seasoned so you won't have to deal with the hassle of seasoning it for the first time (which is the most difficult step). They're also very versatile as they work very well in all cooktops, from gas cooktops and ovens to induction and electric stovetops.
Now, I own all the brands listed above and I've tested them for months (some for years), so it goes without saying that they are all long-lasting and reliable. But as a food blogger who spends a lot of time playing around in the kitchen, my personal favorite is Kana.
Milo by Kana Lifestyle is a great choice for home cooks and professionals alike because it's extremely easy to use, clean, and maintain, very durable, and great for the environment with its sustainable material sourcing. Plus, it's pre-seasoned so you won't have to worry about seasoning it yourself for that perfect nonstick surface. And it's really pretty too – it's a gorgeous, minimalist-looking black satin finish that looks nice in any kitchen or dinner table when serving your dish
---
---
It also comes with a lifetime guarantee, which is always a plus for any kitchen appliance. As far as cost goes, it's not the cheapest (nor most expensive) option, but you do get what you pay for here and a lot more – an incredibly reliable and durable skillet that can handle anything from searing steaks to baking pies.
Get my favorite MILO set for 20% off
---
Here are some of my cast iron skillet recipes you need to try!