Filled with umami flavor, miso paste is an essential ingredient in Japanese cuisine. From soups to marinades and dressings, this fermented soybean paste adds a unique and savory taste to your cooking.
Even though miso paste lasts a long time, it's important to store it properly so that you can maximize its shelf life. In this blog, we'll discuss how to store miso paste and how long it lasts in the fridge.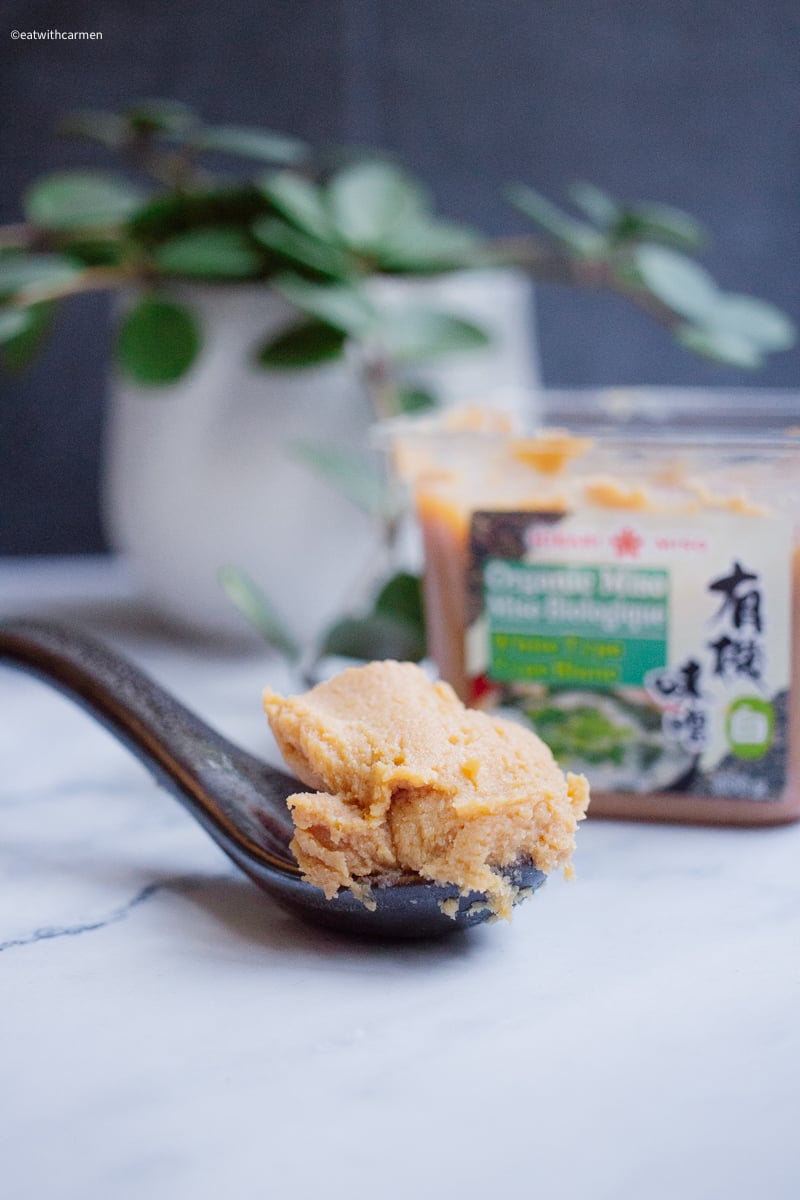 This was inspired by my miso recipes on this site such as infamous garlic miso chicken, miso salmon, miso glazed eggplant, miso glazed black cod and so much more!
Jump to:
What is miso?
Miso is a traditional Japanese seasoning made from fermented soybeans, salt, and koji (a type of fungus). It's been enjoyed in Japan for centuries, but recently, it has become popular outside the country as a flavorful and nutritious ingredient.
With a salty-savory flavor and a thick, paste-like texture, miso paste is a common ingredient in many popular Japanese dishes like miso soup, udon, and ramen. Aside from soups, it is used to add depth and complexity to marinades, salad dressings, and sauces.
---
How is miso made?
Basically, making miso paste involves fermenting steamed and mashed soybeans with koji, salt, and sometimes other ingredients like rice or barley. Koji is a type of fungus that helps to break down the starches in the beans. The mixture is left to ferment for weeks or even months, depending on the variety.
The fermentation process gives the paste its signature flavor and also helps preserve it. This means that if you buy high-quality miso, you can expect it to last for months to even a year when you follow the proper storage conditions.
The longer the fermentation period is, the stronger and more complex the flavor of the miso will be. After it's fermented, miso is then either packaged in plastic containers as a paste-like substance that's ready for use.
---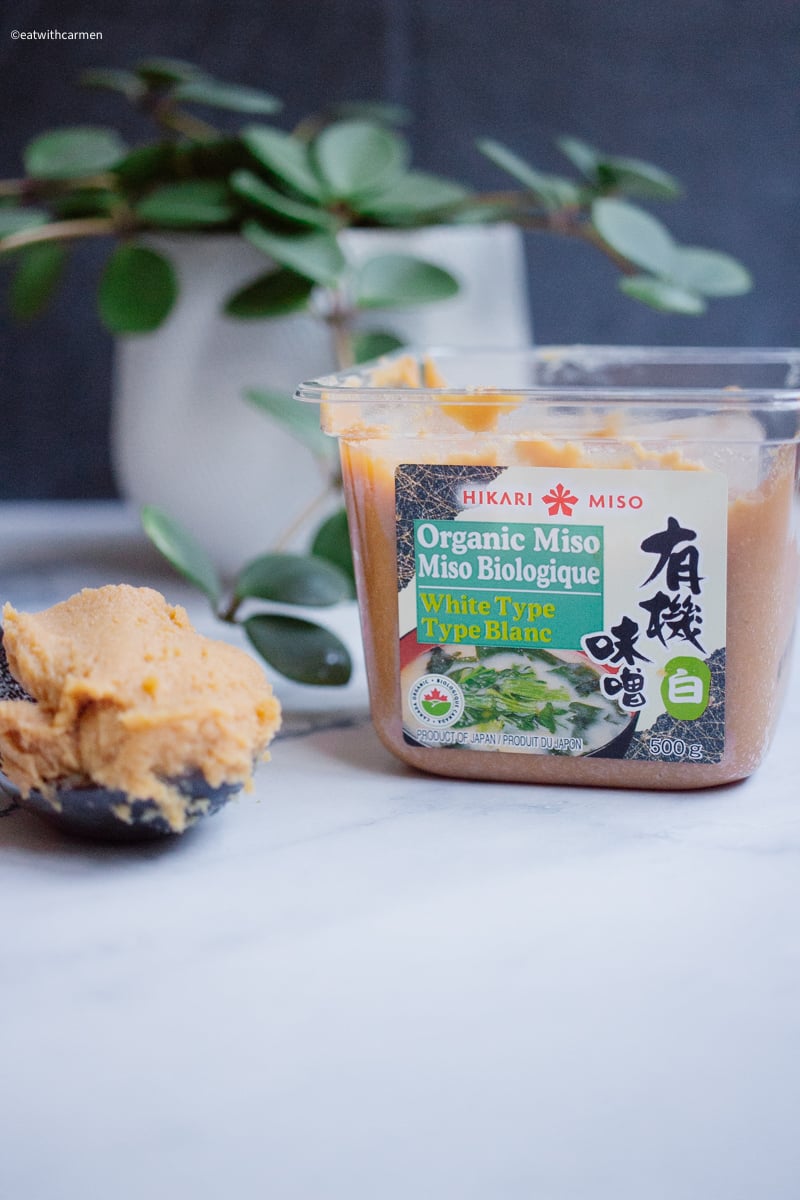 Different types of miso paste
Miso paste comes in a variety of colors, flavors, and textures. Depending on the length of fermentation, it can range from light and sweet to dark and salty.
White miso paste (shiro miso): A milder-flavored variety that has been fermented for a shorter length of time (1-3 months). It has a pale color and is used in lighter dishes like sauces, dressings, and soups.
Yellow miso paste (shinshu miso): Slightly darker than white miso but still mild in flavor because of a slightly longer fermentation time (4-8 months). It has a deep golden hue and works well as an all-purpose seasoning.
Brown miso paste (genmai miso), on the other hand, is a red miso variety made with brown rice instead of white rice. It has a longer fermentation time (two years) and has a similar flavor to red miso but with a distinct nutty flavor.
Other types of miso you can find on Asian grocery stores include barley miso (mugi miso), white rice miso (kome miso), and soybean-only varieties (mame miso). Each type of miso has its own unique salty taste, texture, and color that can be used to enhance the flavor of a dish.
---
Miso broth concentrate vs miso paste
Miso paste is not to be confused with miso broth concentrate, which is a more liquid version of the paste. Both are similar in flavor and texture, but the concentrate has a slightly stronger taste that can be primarily used as a base for soups.
---
How to store miso paste after opening?
Miso is called a preservative food for a reason. The fermentation process and high salt content give miso paste a long shelf life, but once opened, it should be stored in a cool dark place at low temperatures to maintain its flavor and quality.
The best way to store miso paste is to keep it in its original container, place in an airtight container if needed, and transfer to the refrigerator. You can also use plastic wrap to cover the surface of the miso paste to prevent it from drying out.
To maintain the best quality and taste, store the paste away from strong-smelling foods, and make it a practice to use clean spoons when scooping out portions.
If you plan on using your miso paste over a longer period of time, the best place to store miso paste is in a freezer-safe container in the freezer. Since it has a low water content, freezing will help preserve the flavor and quality of the miso paste without ruining its texture. You can even use it for your Japanese cooking right out of the freezer.
---
How long does miso paste last?
Even the most high-quality miso paste has a limited shelf life. The fermentation process of miso makes it naturally acidic and resistant to spoilage, but it will not last forever.
Generally speaking, if stored properly in the refrigerator after opening, miso paste can last up to a year before it starts to lose its flavor and texture. Unopened miso paste typically has a shelf-life of 1-2 years while homemade fresh miso can last for up to a year.
Before using the paste, it is important to check the expiration date or best-by date and inspect for signs of spoilage. Give it a good sniff and look for any discoloration or mold. Some signs that your miso paste should be not consumed and discarded immediately include a sour smell, visible mold growth, or a change in its original color.
---
What goes with miso?
A lot of things go well with miso paste. It can be used in combination with other ingredients like mirin, sake, and soy sauce to make delicious sauces and marinades for fish and meats like salmon, cod, and chicken. Miso also pairs wonderfully with vegetables like mushrooms, eggplant, squash, and green beans.
Lately, it has been gaining popularity as an ingredient in vegan recipes like miso-glazed tofu and tempeh. It can also be used to make a creamy, savory dip or spread.
Some examples of where you can use leftover miso paste are:
---
Here are my favorite miso recipes
---
FAQ
Is miso gluten free?
The most common miso pastes (red, yellow, white, and brown) are gluten-free since they are made from rice and soybeans. However, it's important to read the label as some miso pastes may contain barley or wheat-based ingredients.
Can you freeze miso paste?
Yes, you can freeze miso paste. It is a great way to extend the shelf life of this delicious and versatile condiment, which is made from fermented soybeans and salt. If you plan on freezing your miso paste, make sure to wrap it tightly in plastic wrap to prevent freezer burn and keep the paste from absorbing any unwanted odors.
How do you store miso paste once opened?
Once opened, miso paste should be stored in the refrigerator and used within a couple of months to a year. Since miso paste can still ferment and spoil quickly if not refrigerated, the best way to store miso paste is in an airtight container or jar with as little air space as possible so it won't dry out.
How long does miso paste last once opened?
Once opened, miso paste can last for a few months to a year in the refrigerator and up to a year in the freezer. Its naturally high salt content inhibits bacterial growth and preserves it for a longer period of time.
Can miso paste not be refrigerated?
No, miso paste should be refrigerated once opened. It can last for several months to up to a year when stored in the refrigerator, although some varieties may only last a few months. At room temperature, the miso paste will continue to ferment the amino acids in the soybeans, which will cause the flavor and color to change and cause the product to spoil quickly.
Can I eat miso paste raw?
Yes, miso paste can be eaten raw. Since it is a fermented food product, it is safe to eat raw. However, some people find the taste too salty and prefer to cook with miso paste instead.