Filipino Street Food
I love me some grilled bbq anything. But this Grilled BBQ Chicken Thigh Recipe – Filipino Style is next level!
This classic Filipino Street food is the best!You can this everywhere in Manila (where I grew up). It is basically crack on a stick. Try eating just one, I dare you!
This is super easy to make from scratch. The chicken doesn't need much time to marinate. This recipe is awesome with chicken thighs. My kids prefer it. I made a pork version as well. Here is the recipe for my Filipino BBQ Pork Skewer.
What you need
chicken thighs
You can't have grilled bbq chicken thighs without boneless skinless chicken thighs cut into 1″ pieces. My favorite chicken to work with. It is so forgiving and flavorful.
Chicken breast will work but you won't get the same fat content so overcooking is a risk. No one likes their chicken dry.
BANANA KETCHUP
Weird but crucial. Can you believe this is made with bananas? It is a lot sweeter than regular tomato ketchup. I would only use this ingredient on my barbecue sauces. You can easily find this in most grocery stores. Go to the asian isle. I love it.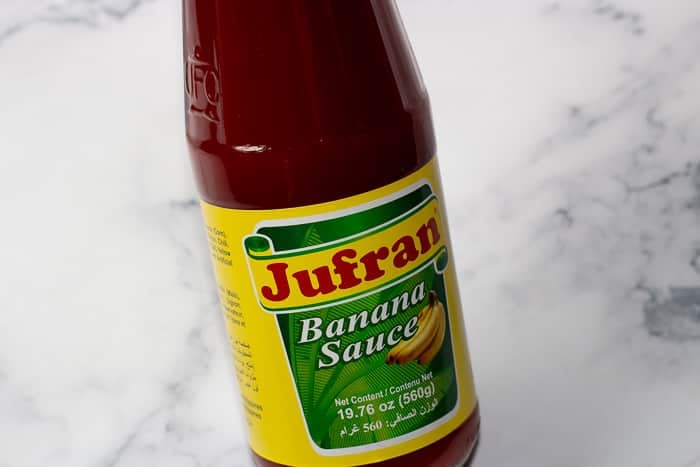 sweet dark soy sauce
aka Kecap Manis. This is an Indonesian sweet soy sauce. It gives an dish a great color and flavor. Who doesn't like that? Available in the Asian food isle in most grocery stores.
Aromatics: garlic and ginger
Please do not use powder anything. Fresh is best.
Regular soy sauce
Regular or Low-sodium. Tamari for gluten-free.
APPLE CIDER VINEGAR
Any vinegar should work. White or Rice vinegar. I prefer Apple Cider Vinegar.
equipment
Let's make Chicken BBQ Skewers
Step 1 – MAKE YOUR SAUCE! 
1. Make the marinade / BBQ sauce
2. In a saucepot, add all the liquids.
3. Then smashed the garlic and slice the ginger. Add that to the pot.
4. Bring to a boil then simmer for 30 minutes.
Step 2 – PREP YOUR CHICKEN / MARINADE
1. Prep your chicken. Cut them into 1-inch cubes.2. COOL DOWN YOUR SAUCE 3. In a large mixing bowl, use 1 cup of the sauce to marinate the chicken. MAKE SURE THE SAUCE IS AT ROOM TEMPERATURE TO AVOID LISTERIA.
3. Keep it in the fridge to marinate for 30 minutes. For best results, marinate overnight.
4. Keep the rest of your sauce in an air-tight container and store it in the fridge. This will be your BBQ sauce for basting.
Step 3 – lET'S CUE IT UP! 
1. Using bamboo skewers or flat metal skewers, poke your meat. Keep them tight. Prevents it from drying out on the grill racks.
2. Preheat your barbecue, make sure it is on low when cooking the chicken. I wouldn't use direct heat as the sugar and fat content are extremely high. I have made this mistake in the past cooking it on medium-high heat and it almost exploded. I am exaggerating but be careful. Keep it low and keep it safe!
3. Using your basting sauce, baste as much as you turn it. I like to baste every 3 minutes.
4. Cooking time for this should be 15 minutes. With an internal temperature of 165 ºF
Tip:
I like to make a huge batch of this recipe to have throughout the summer. Therefore, I like to freeze my marinated meat until I am ready to skewer it and barbecue it. The BBQ sauce is also freezable. It should be good in the freezer for up to 3 months.
Other recipes to try with Grilled BBQ Chicken Thighs: 
Print
Grilled BBQ Chicken Thighs – Filipino Style
This is authentic Filipino street food. My favorite dish to make this summer. BBQ season is the best season.
Total Time:

45 minutes

Yield:

6

-8

1

x
10 – 12 boneless skinless chicken thighs cut into 1" pieces
Sauce & Marinade:
1 cup banana ketchup (Jufran Banana Ketchup)
½ cup soy sauce
½ cup brown sugar
¼ cup dark soy sauce (kecap manis)
¼ cup apple cider vinegar
10 cloves of fresh garlic
2 inches of sliced ginger
1 tablespoon gochutgaru
1 teaspoon black pepper
2 tbsp red pepper flakes for some spice (optional)
Instructions
Make the marinade/sauce. Add all the liquids to a medium-size pot.
Then smashed the garlic and slice the ginger. Add that to the pot.
Bring to a boil then simmer for 20 minutes.
Prep your chicken thighs. Cut them into 1-inch cubes.
Cool down your sauce.
Make sure your marinade/sauce is completely cooled down. In an airtight container, add 1 cup of the sauce to marinate the chicken. Marinate for 30 minutes. For best results, marinate overnight.
Keep the rest of your sauce in an airtight container and store it in the fridge. This will be your BBQ sauce for basting.
When you are ready to barbeque, start skewering the chicken. Keep them tight. This prevents the chicken from drying out. Discard the marinade.
Preheat your barbeque, make sure it is on low when cooking the meat.
Start basting right away with the reserved marinade to start developing the flavors.
The chicken skewers should be done in 15 minutes. With an internal temperature of

165 ºF
Author:

Carmen

Prep Time:

30 minutes

Marinate:

30 minutes

Cook Time:

15 minutes

Category:

mains, sauces

Method:

barbecue

Cuisine:

filipino
Keywords: grilled bbq chicken thighs