This Filipino Pork Belly Adobo recipe is the national dish of the Philippines for a good reason. The pork belly is melt-in-your-mouth tender. The pork adobo sauce is well-balanced and so delicious with white rice. Good luck just taking one bite of this dish.
Mouthwatering Filipino Pork Belly Adobo Recipe
It looks impressive however, pork adobo is a fairly easy dish to make. The cooking process is quite simple, sear the pork belly, then braise it for an hour or so. Check on it once in a while, reduce the braising liquid, and that's it. It's ready to be served. There are 2 ways to execute this dish one is in a large dutch oven and secondly in an Instant Pot. All the instructions are listed below.
---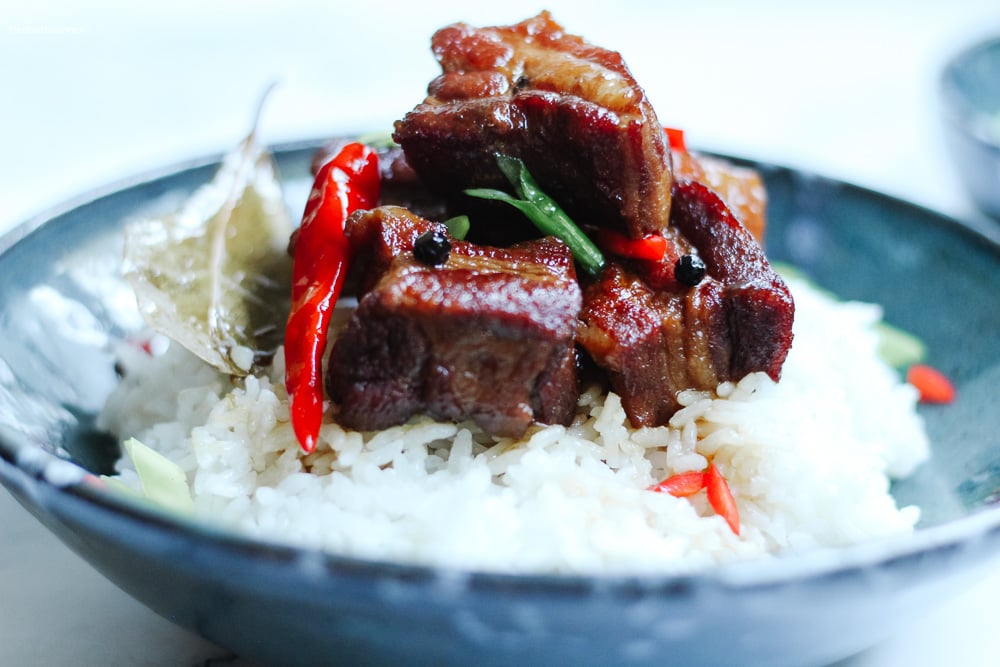 Pork Adobo Instant Pot
I cooked this pork belly adobo recipe in a dutch oven because I knew it would make my house smell amazing. However, the cooking time could be cut in half if you cooked it in a pressure cooker or Instant Pot.
Pork Adobo Instant Pot instructions are below.
Using the saute function, sear/ brown the pork belly pieces in batches. Do not overcrowd.
Remove the pork and set it aside in a large bowl.
Get rid of the excess oil.
Add the rest of the ingredients.
Add back the pork belly and put the lid on. Set the timer for MEAT 30 minutes.
Let it come to a natural release and open the top safely.
Put back on saute mode and reduce the sauce to half until desired consistency.
---
---
Ingredients and Substitutions
Pork belly – Filipino adobo can be made with pork shoulder or pork butt.
Soy sauce – I used low-sodium soy sauce. Tamari would work for this as well.
Cane vinegar – I used the traditional Datu Puti brand. It is a cane vinegar that is less acidic than white vinegar. If you cannot find this, I would use apple cider vinegar.
Brown sugar – has a molasses flavor to it. It goes really well with this recipe.
Onion, Ginger, and Garlic – aromatics are the backbone of this recipe. The trio cannot be replicated. Please do not use powder.
Bay leaves – dried bay leaves are an essential herb to this recipe.
Black peppercorns
Red Thai chili peppers – Optional but highly recommended. It gave it the perfect spiciness. Add more if you're feeling spicy.
---
Equipment
Large dutch oven
Instant Pot or any pressure cooker (instructions listed below) OPTIONAL
Cutting board and knife
Large bowl
---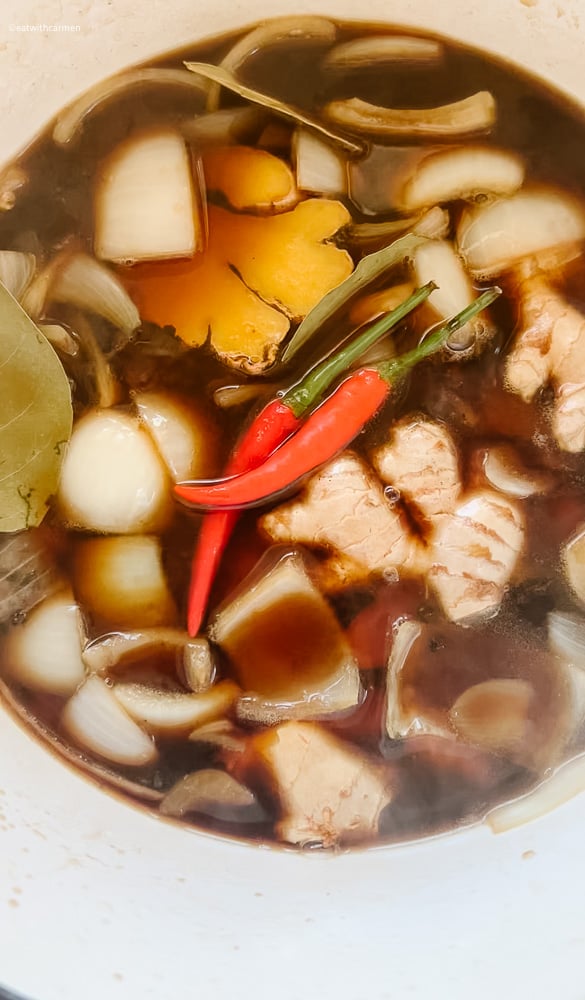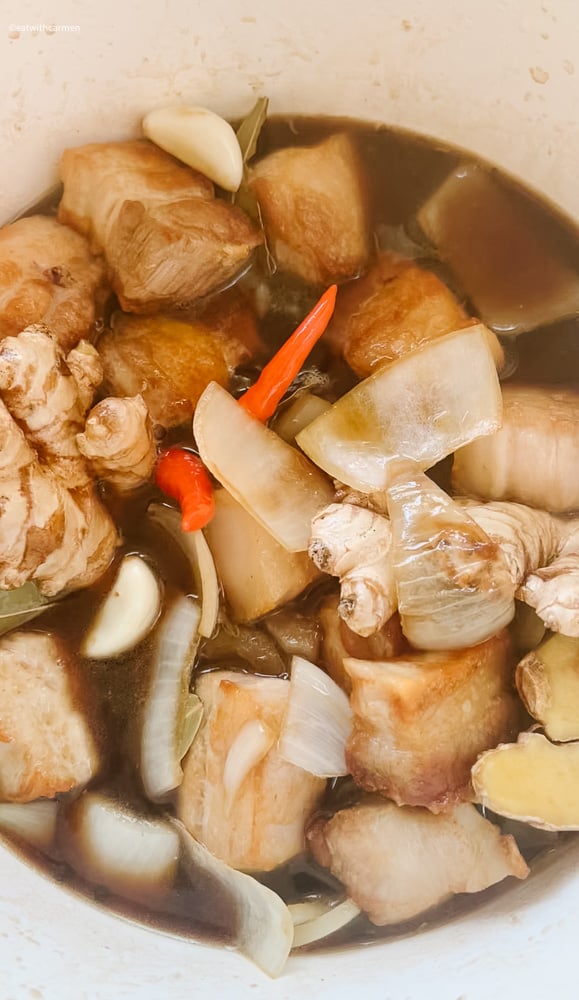 What to serve with Pork Belly Adobo
This pork adobo dish is best served with:
White rice or brown rice – if you're feeling fancy, make Garlic Rice.
Steamed or sauteed vegetables.
How to reheat and store
Any braised, stewed dishes always taste better the next day. This is no exception. This is best stored in an airtight container. To reheat, you can microwave it, or my preference is to reheat it in a pot.
PRO TIP: If you have leftover rice, use the sauce and make Adobo Fried Rice with a fried egg. It is epic!
Adobo Fried Rice:
Ingredients:
minced garlic
leftover day old rice
sauce from adobo
Method:
In a frying pan, add oil, and saute the minced garlic until fragrant and golden brown.
Add the leftover rice and mix until combined.
Add a few tablespoon of the adobo sauce at a time. Taste and adjust the amount of sauce you add.
Try out my other Filipino recipes!
Print
Pork Belly Adobo
The pork belly adobo is melt-in-your-mouth tender. The sauce is well-balanced and so delicious with white rice. Good luck just taking one bite of this dish.
Total Time:

1 hour and 35 minutes

Yield:

2

-4

1

x
2 lbs pork belly – skin removed and cut into 2-inch pieces
⅓ cup soy sauce
½ cup water
¾ cup cane vinegar
⅓ cup lightly packed brown sugar
1 diced onion
3-inch ginger sliced in half
8 garlic cloves
4 bay leaves
1 tbsp whole peppercorn
2 – 3 red Thai chili peppers (optional – highly recommend)
Instructions
Prepare all your ingredients. Remove the skin side of your pork belly, and slice them into 2-inch pieces.
Slice and dice your aromatics (ginger, onions, and garlic).
Prepare your adobo sauce so everything is ready to go (soy sauce, water, vinegar, and sugar).
In a large dutch oven, sear your pieces of pork belly on all sides. Do this in batches and do not overcrowd. Remove and set aside.
Get rid of excess fat or oil in the pot.
Add the aromatics (ginger, garlic, onion, black peppercorn) into the dutch oven.
Add all the liquids (soy sauce, water, vinegar) and brown sugar.
Bring it to a boil. Add the bay leaves and chili peppers.
Add back the pork belly. Let it come to a boil, then bring it down to low heat, and simmer for 1 hour with the lid on.
After an hour, check if the pork belly is fork tender. If not, increase to medium heat and simmer for another 10 minutes.
When the pork belly is fork tender, remove the lid and let it simmer on medium-high heat for 10 minutes to let the cooking liquid reduce.
When the sauce has been reduced in half, turn off the heat. The sauce should be thickened and the flavor should be well-balanced.
Serve it with white rice and enjoy!
Equipment
Notes
*You can make this in the Instant Pot for a quicker cook time. Instructions are listed above.
Author:

Carmen

Prep Time:

10 minutes

Cook Time:

85 minutes

Category:

mains

Method:

braising

Cuisine:

filipino
Keywords: adobo, filipino adobo, filipino pork adobo, pork adobo, pork belly adobo, braised pork belly instant pot, pork adobo instant pot