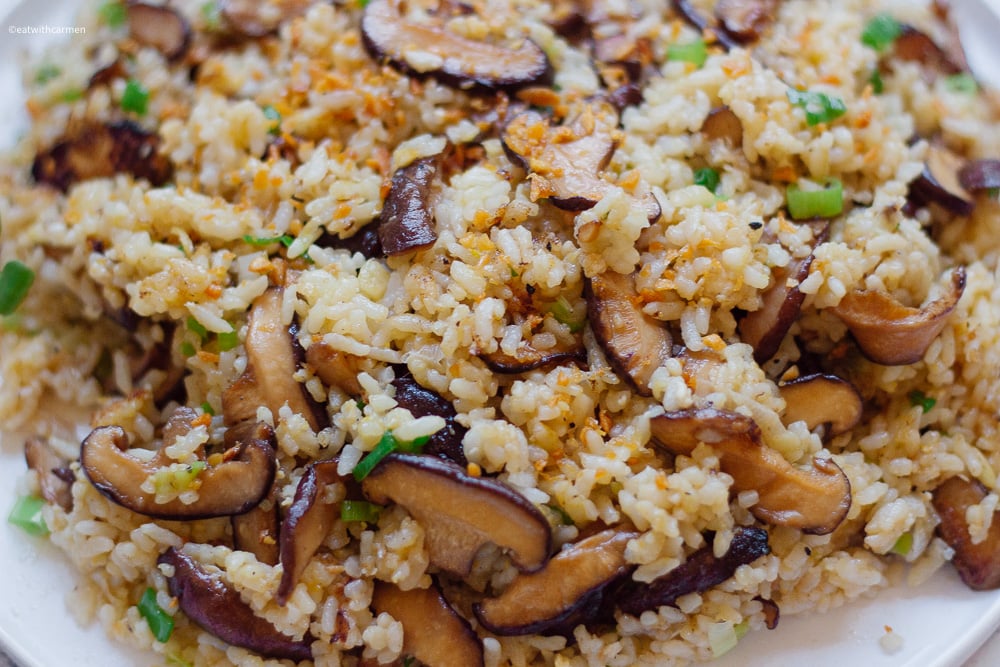 How can a dish with simple ingredients bring me so much joy?
If you're a mushroom lover, this shiitake mushroom fried rice recipe is perfect for you! It's one of my favorite easy mushroom rice recipes to make when I'm craving something savory and comforting.
Fried rice is a popular dish in Chinese cuisine, and it's one of my go-to recipes when I want a quick meal either as a main or side dish. This Chinese-inspired mushroom fried rice recipe is my personal favorite because the strong flavor of shiitake mushrooms goes so well with rice.
And I love how I can easily finish my leftover rice, protein, or vegetables in the fridge whenever I make fried rice! It's versatile enough that you can add any kind of mushrooms like oyster, baby bella or cremini, and white button mushrooms, as well as vegetables like peas, carrots, or even broccoli.
---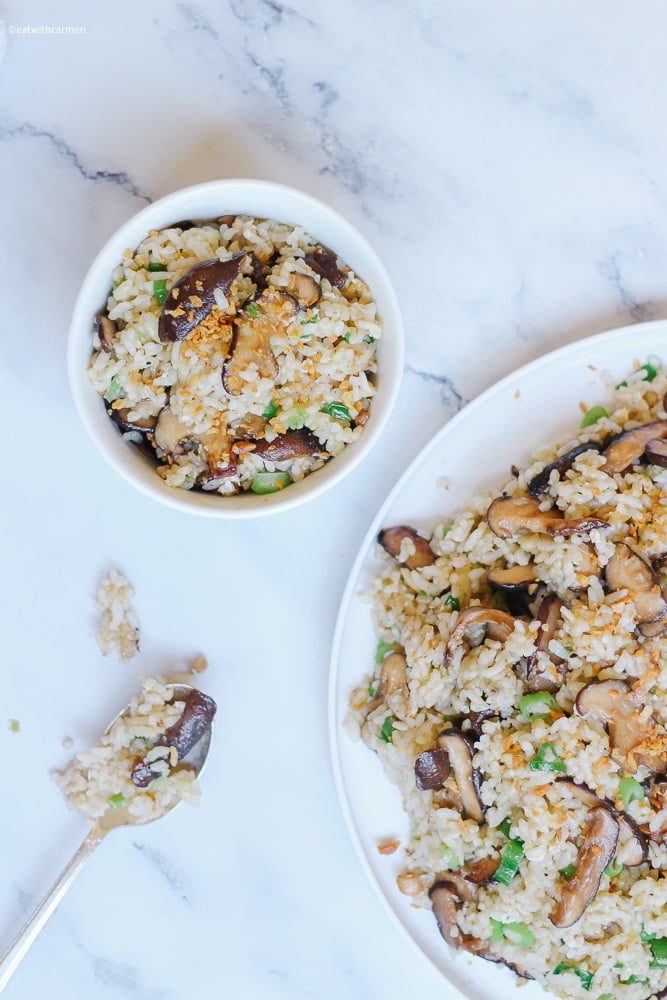 ---
What are the secrets to making the best fried rice?
For the perfect, non-mushy fried rice, here are some of my tried and true tips!
Hot wok or skillet. A super hot wok will ensure the rice doesn't stick to the bottom. It's also the key to that perfect crispy texture.
Day-old rice is best. In my experience, the best rice to use for fried rice is leftover, day-old cold rice. I have used brown rice and quinoa in the past and the taste just isn't authentic. But whatever you have should work as long as it's from the night before. Not only is it a great way to use leftovers, but they also make the best texture and flavor for fried rice. As much as you can, don't use freshly cooked rice as it's full of moisture and will make your fried rice mushy.
Prepped ingredients. Stir-frying is a quick process. Make sure that everything is chopped, prepped, and ready to go. This way, you can just throw everything in the wok at the right time and not have to worry about anything else.
Using the right oil. Olive oil is never going to work in fried rice. EVER. Always use neutral, high-temperature oil. Avocado oil, grapeseed oil, vegetable or canola oil, sunflower oil, or peanut oil are all exceptional options for mushroom fried rice.
Correct seasonings. It's either MSG or chicken bouillon powder. MSG is not the devil, regardless of what people say. Research has been done, and even your favorite chips and snacks have MSG. I personally like using chicken bouillon powder for my fried rice. It gives it lots of umami flavor that I love.
A little bit of dark soy sauce, fish sauce, or oyster sauce would work, but be careful of putting too much in as it will make your rice mushy. Again, I like to stick with drier ingredients for my fried rice unless I'm going for a sticky fried rice dish, which I am always down for.
---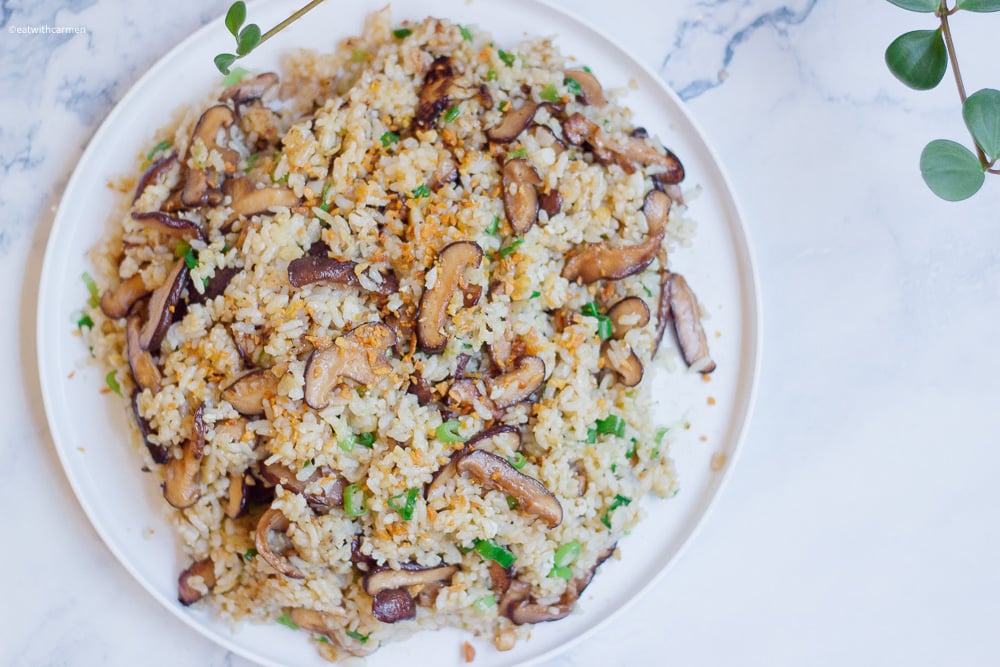 ---
Ingredients and Substitutions
Shiitake mushrooms – I love shiitake for its rich depth of flavor, but any type of mushroom should work for this recipe. From cremini mushrooms to oyster mushrooms, you can use whatever you have on hand.

Rice – Long-grain white rice is traditional like Basmati or Jasmine rice, but who cares? You can also use brown rice, quinoa, cauliflower – whatever floats your boat or whatever you have leftover from your meal the night before!

Eggs – To make this a vegan recipe, omit the eggs or use JustEgg – it's brilliant!

Garlic and green onions – Aromatics I cannot live without. Don't dare to leave them out!

Soy sauce – A little bit of soy sauce in the shiitake mushrooms makes it unbelievably tasty and full of umami flavor. But remember that a little goes a long way. You can use low-sodium or light soy sauce too.

Chicken bouillon powder – My number 1 tip for making my fried rice light, loose, and not mushy!

Toasted sesame oil – Another essential ingredient in Chinese cuisine. Regular sesame oil also works.

Salt & black pepper – To taste

Avocado oil for frying – I prefer avocado oil, but you can use any high-temperature oil for this, such as grapeseed oil, vegetable or canola oil, sunflower, or peanut oil. DO NOT USE OLIVE OIL.
---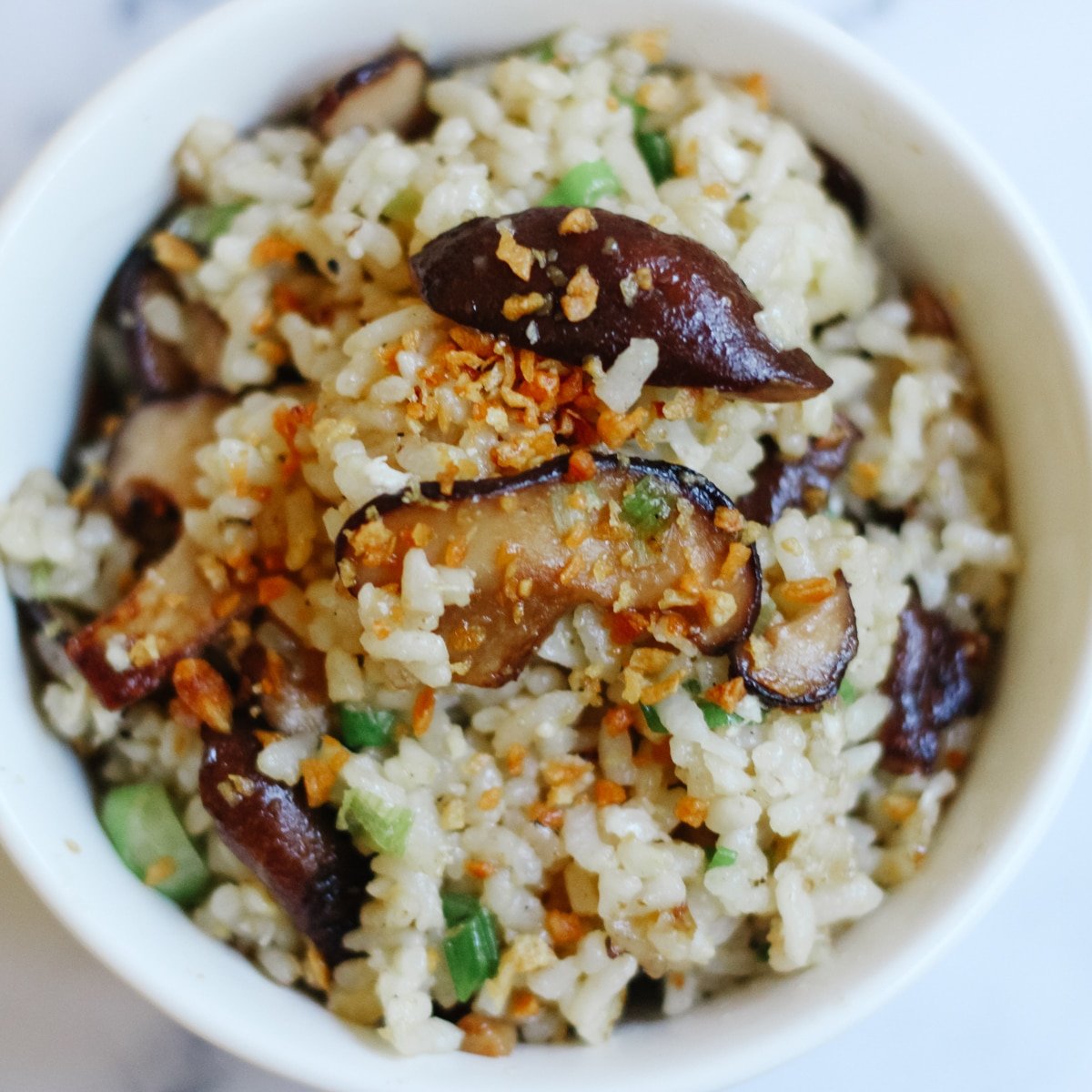 ---
Other ingredients that would go well in this mushroom fried rice
Red pepper flakes
Chili oil
Green chillies
Sesame seeds
Frozen peas
Carrots
Red and green bell peppers for sweetness and color
I love a bright dish, so feel free to play around with the ingredients. This recipe is a great base for your fried rice journey.
---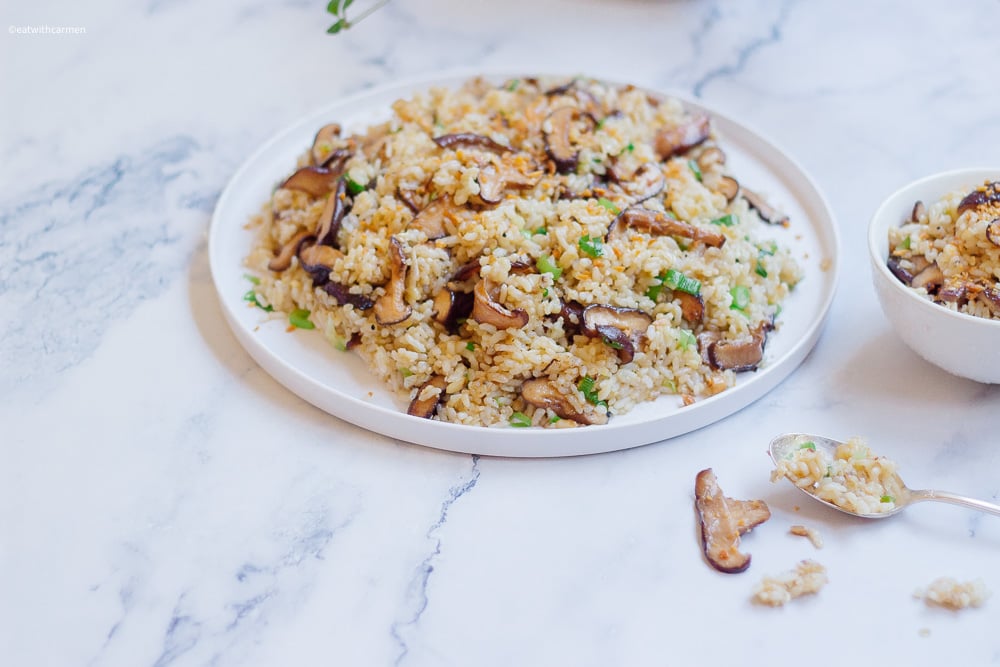 ---
Equipment
This dish doesn't require much, which is why I love it!
Print
Shiitake Mushroom Fried Rice
If you're a mushroom lover, this Shiitake Mushroom Fried Rice is perfect for you. This is one of my favorites. It is so easy and quick to make.
Total Time:

20 minutes

Yield:

2

-4

1

x
3 cups sliced shiitake mushrooms
2 cups of day-old rice
2 eggs (yolks and whites separated)
7 minced cloves of garlic
3 stalks of spring onions (green and white part separated)
1 tbsp toasted sesame oil
1 tbsp soy sauce
2 tsp chicken bouillon powder
1 tsp of salt
ground pepper
3 – 4 tablespoon of avocado oil for frying
Instructions
Prepare your ingredients. Slice your shiitake mushrooms, mince the garlic, and chop the green onions. Make sure to separate the white and green parts of the green onions.
In a bowl, mix the day-old rice with the yolk. This will give the rice a beautiful golden brown color.
In a small bowl, whisk your egg whites and set aside.
In a large wok or a large frying pan on medium-high heat, add 1-2 tablespoons of neutral oil, and saute the mushrooms. Add the soy sauce and a little bit of minced garlic. Cook the mushrooms until they are crispy in some parts and have a perfect consistency, which is about 5-7 minutes. Remove and set aside.
In the same large skillet, stir fry your minced garlic and white part of the green onions for 1-2 minutes or until fragrant.
Lower to medium heat. Add your rice, chicken bouillon powder and saute to make sure the rice is broken up well and everything is well-combined.
Make a well in the middle and add the whisked egg whites. Let the egg cook and mix it well with the rice.
Add in the cooked mushrooms, the rest of the green onions, and the toasted sesame oil. Stir well for about 2-3 minutes.
Check for seasoning and add salt and pepper to taste at the end.
Serve and enjoy!
Notes
*Make sure all ingredients are all prepped before you start cooking.
Author:

Carmen

Prep Time:

5

Cook Time:

15 minutes

Category:

sides

Method:

wok

Cuisine:

asian
Keywords: mushroom fried rice, fried rice with mushroom, mushroom in fried rice, shiitake, mushroom, easy dinner recipe