This Ube Leche Flan recipe is the most decadent, luxurious dessert I have ever made. This has the most beautiful purple hue that is almost too pretty to eat. It took me 10 tries to finally reach the PERFECT UBE LECHE FLAN. It is all about consistency. I think the techniques I will show you will always be your go-to when it comes to making leche flan.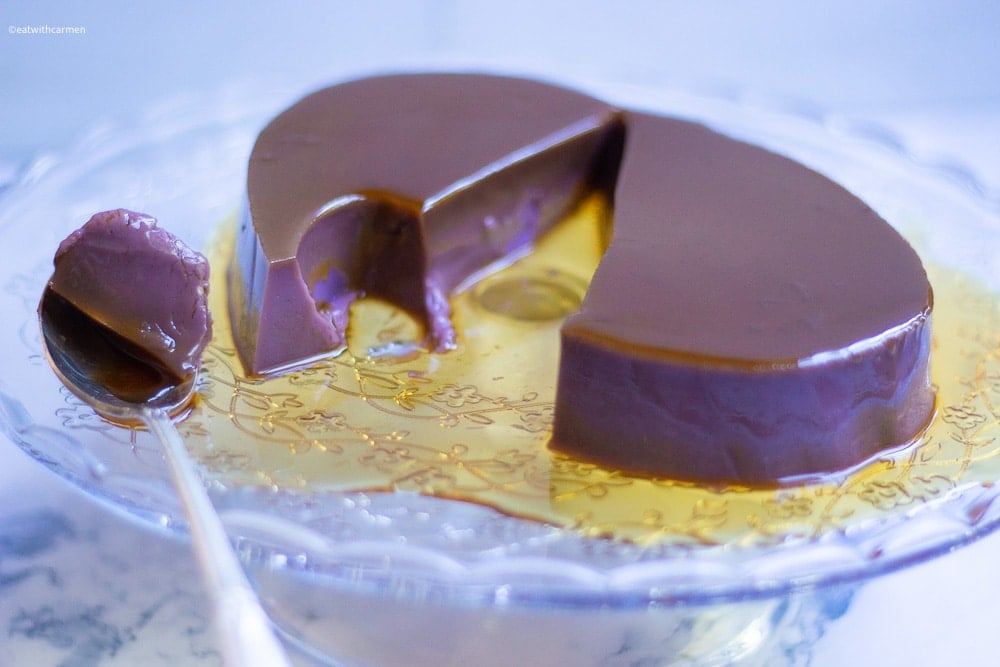 Why I love this Ube Leche Flan recipe
What is great about this Filipino dessert is it's made of humble basic ingredients that are easily accessible. These humble basic ingredients are turned into this silky, sweet and earthy (from the ube) decadent dessert that will not stop eating.
---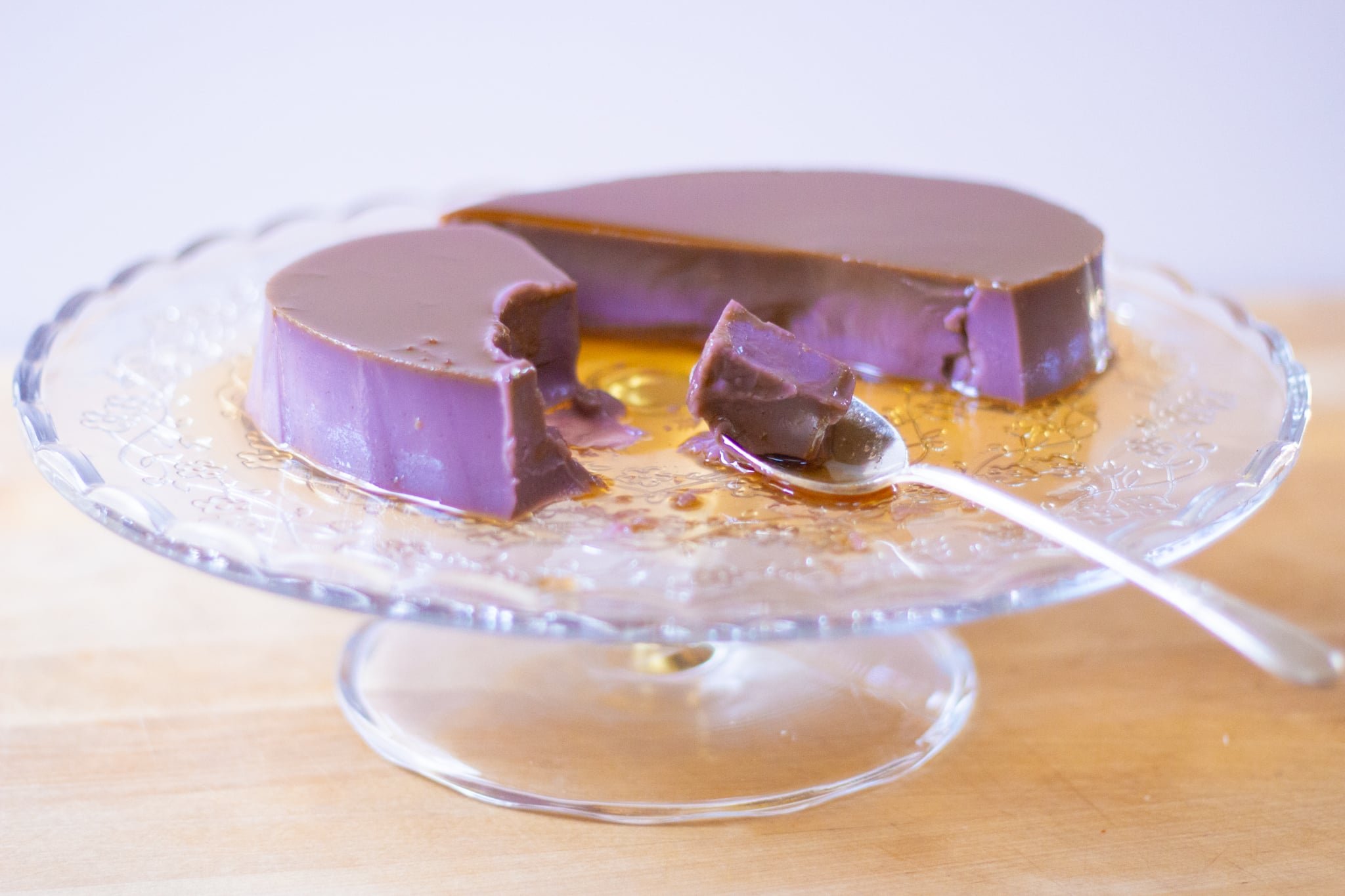 What is UBE?
Ube is a root vegetable (purple yam) known for being in desserts like ice cream, pastries, mochis and the list goes on. It has the most beautiful deep purple color. Most people mistake it for taro but ube is it's own thing. Ube originated from the Philippines.
Where do you find ube?
Most Asian grocery stores will sell ube products. Ube comes in many forms, here are some of the examples.
Ube extract - this is used in this recipe. Much like vanilla extract. Ube has an earthy flavor profile.
Frozen ube - this is used for other baked goods that require real ube root. Because the real ube root is hard to find, supplier would freeze ube for people to buy.
Ube jam
Ube Halaya
What is Leche Flan
Most cultures have a flan recipe. Leche flan is a Filipino dessert that is similar to creme caramel, Mexican flan and creme brulee. It has a caramel layer and a silky custard flan that is predominantly made of egg yolks. A really great leche flan will only consist of egg yolks, at least that's what my Lola (grandma) used to say. She would roll over her grave if I ever put whole eggs in my leche flan. Traditionally, it is usually steamed but can sometimes also be baked in a water bath.
It is usually served during parties, get-togethers, special occasions, and most importantly, Christmas.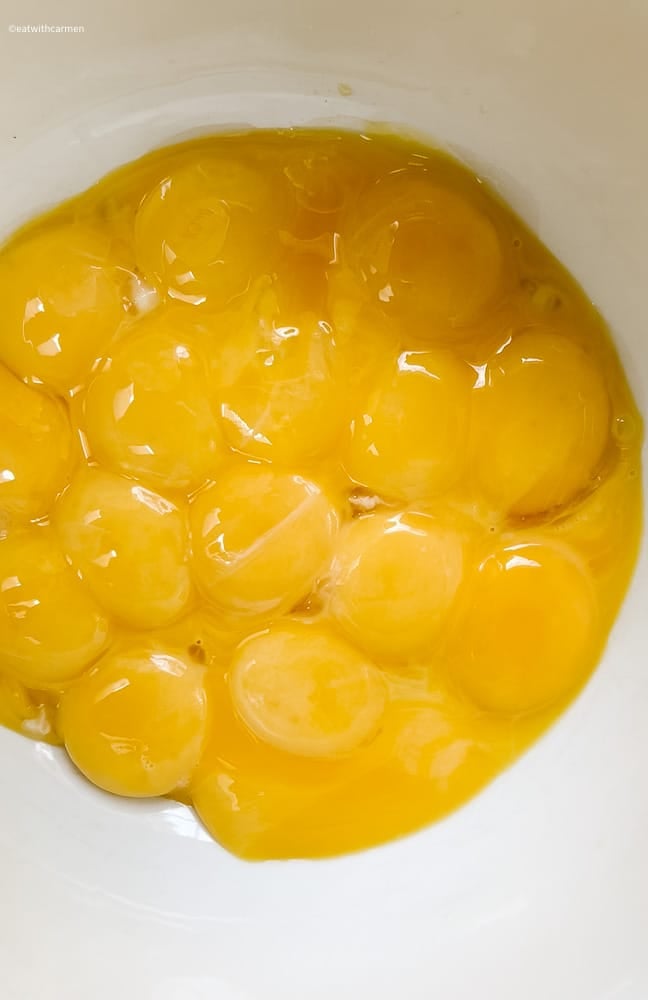 Ingredients and Substitutions
Eggs - Large eggs work the best in this recipe. Separate the yolks from the whites. Try your hardest to not have any egg whites to provide a silky smooth egg custard.
Condensed milk - do not use low fat
Evaporated milk - do not use low fat
White sugar - this is for the caramel.
Ube extract (ube flavoring)
Vanilla bean paste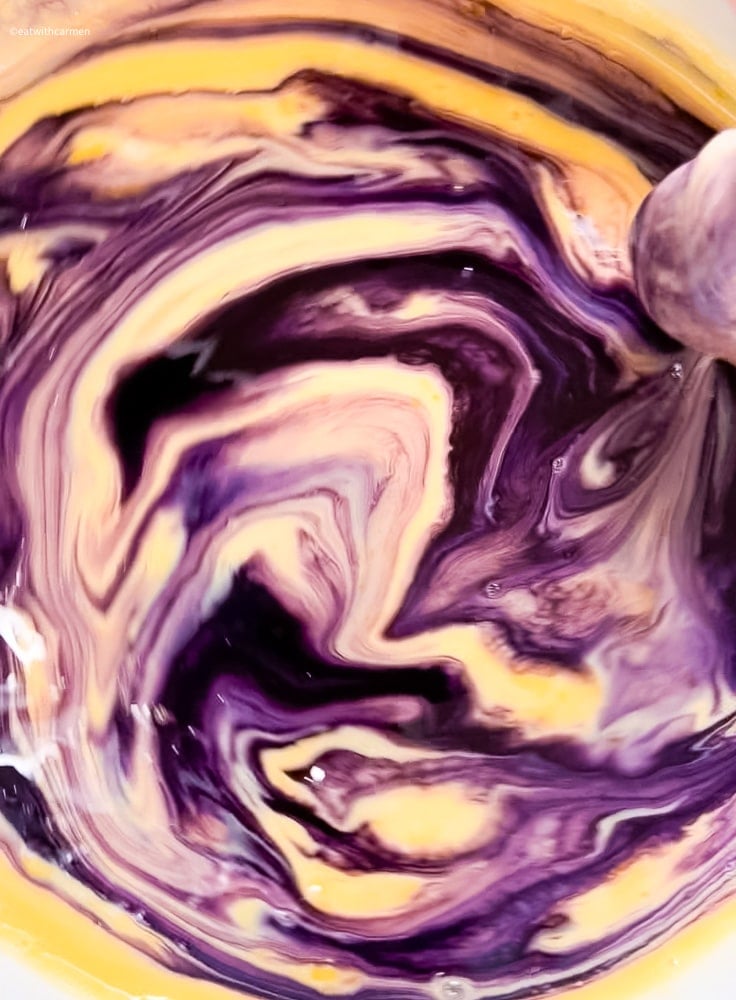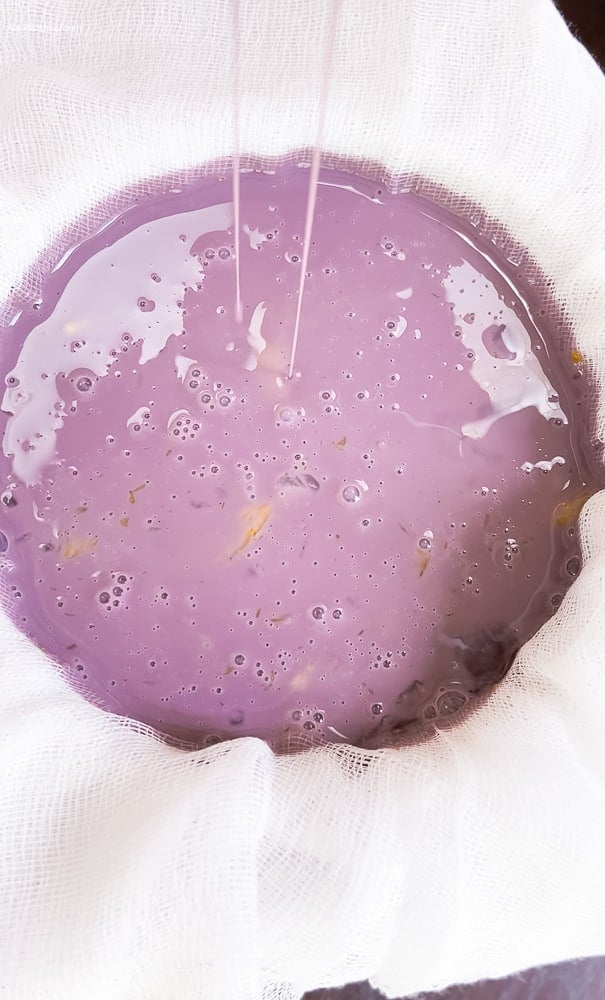 Equipment
Large mixing bowl
silicone spatula
serving plate
Large lyanera also called llanera - traditional Filipino leche flan baking dish*
*cake pan 9 x 13 should work however, the baking times might be different. Do a toothpick method to make sure that the flan has been set properly.
Cheesecloth
Strainer or a fine sift
Serving dish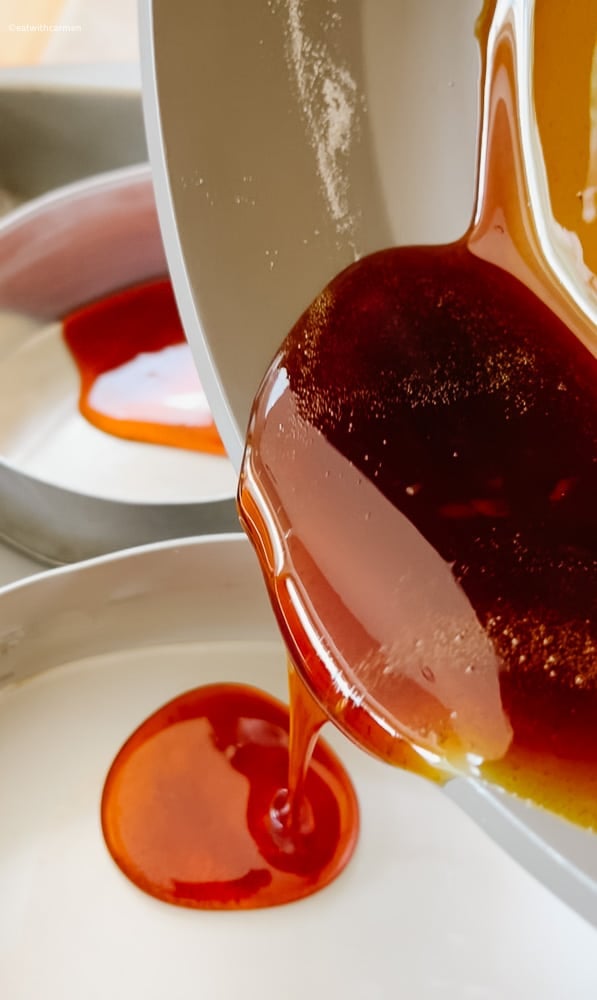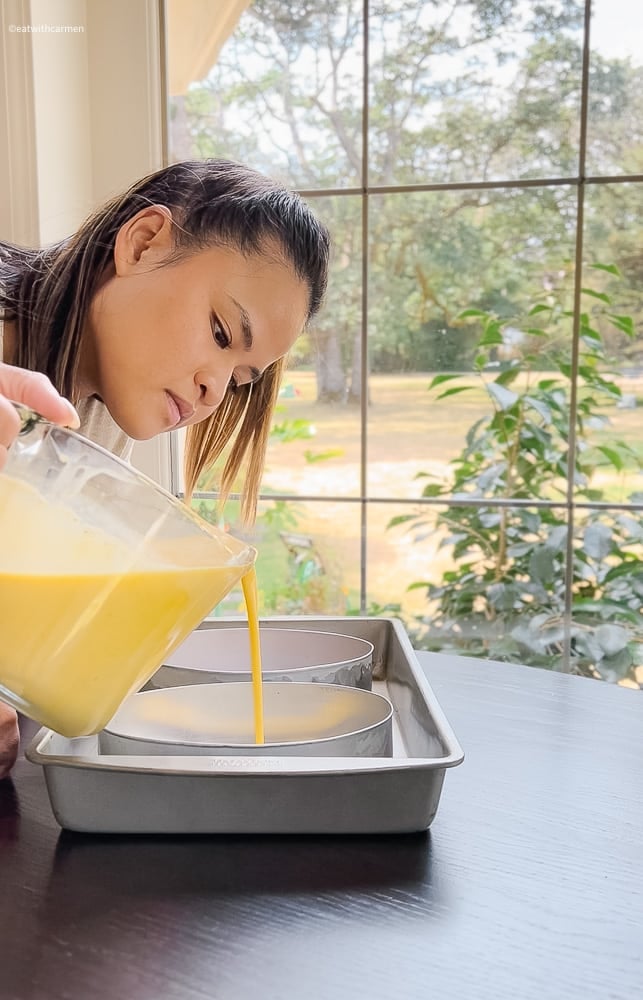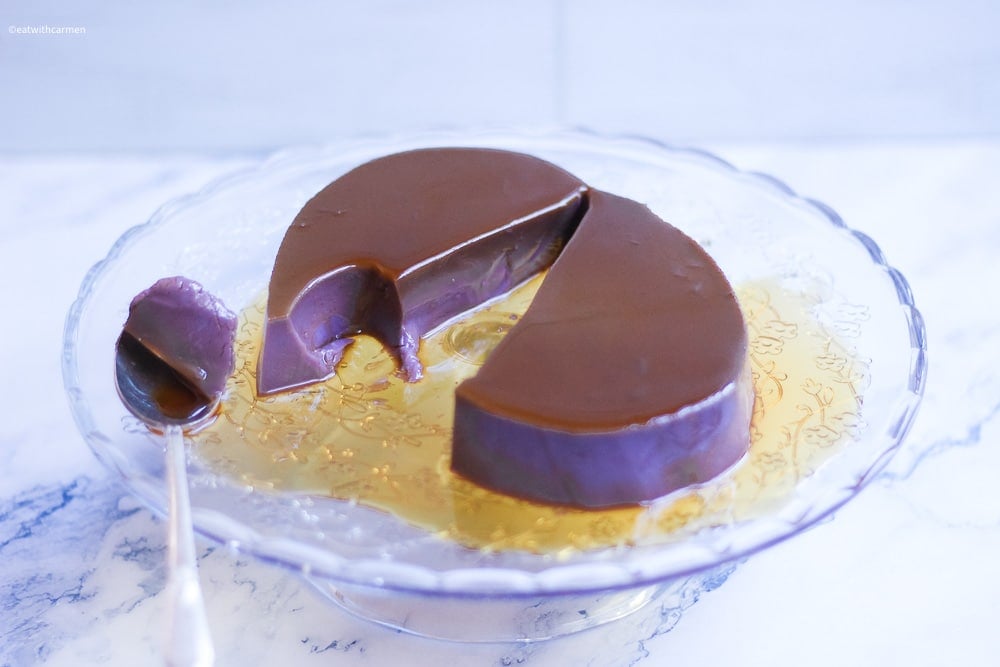 Tops tips for making a super smooth flan
Only use egg yolks
Ube extract is ube flavoring that comes in a small bottle. Not Ube Halaya. There is no real ube in this recipe, just the extract.
Use real vanilla bean paste. Can be difficult to find and quite expensive but so worth it.
Do not over stir your flan. Stir it slowly. You do not want to create air bubbles.
This is the most crucial step. Use cheesecloth and a strainer to sift the egg custard mixture. This will ensure a silky, smooth, creamy flan.
Steaming your flan at LOW HEAT will guarantee no air bubbles.
---
Here are some other recipes I think you would love
Print
Ube Leche Flan
This Ube Leche Flan recipe is the most decadent, luxurious dessert I have ever made. This has the most beautiful purple hue is almost too pretty to eat.
Total Time:

3 hours

Yield:

2

large flans

1

x
2 dozen large eggs (yolks only)
2 cans of condensed milk (14 ounces per can)
⅓ cup (150 ml) of evaporated milk
1 cup of white sugar
1 tbsp ube extract (ube flavoring)
1 tbsp vanilla bean paste
Instructions
Start with making your caramel. On the stove medium heat, use a medium-size sauce pan, and start heating up your sugar. Do not mix with any utensils, only use the pan to move the caramel around. This will take 10-15 minutes or until the caramel is golden brown.
Pour your caramelized sugar into your llanera. Make sure you distribute the caramel all over so that the caramel covers the whole bottom of the mold. Set your pan aside and let it cool.
Separate your egg yolks and egg whites.
In a mixing bowl, lightly mix your egg yolks, add condensed milk, and evaporated milk. Do not over-mix as it will create air bubbles. Mix in your ube extract and vanilla bean paste. Mix until it is fully incorporated. Feel free to add a bit more ube extract if you want a more purple color.
In another large bowl, use a strainer and the cheesecloth to sift the filling to make sure it is a smooth consistency.
Pour your filling in the llanera.
Cover the pan with foil and steam on low simmer heat for 20 - 25 minutes. Do the toothpick test to check if the leche flan is set. The toothpick should come out clean.
Place in the fridge to set for 2 hours to overnight. Serve chilled.
Enjoy!
Notes
This makes 2 flans - each flan has 500 mL of liquid each flan.
To make a classic Leche Flan recipe, remove the ube extract and follow the recipe.
Author:

Carmen

Prep Time:

20 minutes

Set in the fridge:

2 hours

Cook Time:

25 minutes

Category:

dessert

Method:

steam

Cuisine:

filipino
Keywords: ube leche flan, leche flan, filipino dessert