Adding pineapple chunks definitely takes spam fried rice to a whole new level. The saltiness of the spam and the sweetness of the pineapple come together to create an amazing recipe. This Pineapple Spam Fried Rice is not only delicious, but it is also a showstopper. Look at that presentation!
Why YOU will love this recipe
This easy spam fried rice recipe is super addictive. It tasted like something you would have on vacation.
The key to this stir-fried rice recipe is to cook the rice in advance. You want to use leftover rice or day-old rice as freshly cooked rice will result in a mushy fried dish. Check out our tips here for making your next fried rice loose and non-mushy!
I love adding a little bit of soy sauce and sesame oil to our fried rice recipes. These two ingredients help to round out the flavors and give the dish an umami flavor. You can also add a little bit of heat with some red pepper flakes or chili oil.
---
Bring this dish to your next get-together
This Pineapple Spam Fried Rice recipe is so easy to make and only requires a few ingredients that you probably already have. I know you always have a can of spam somewhere in your pantry. Made with simple and fresh ingredients, this is by far the best fried rice I have ever had.
Whether you are looking for a quick and easy meal or want to impress your friends at your next potluck, this is the best spam fried rice recipe. It is something you can whip up in no time as a side dish or a complete meal.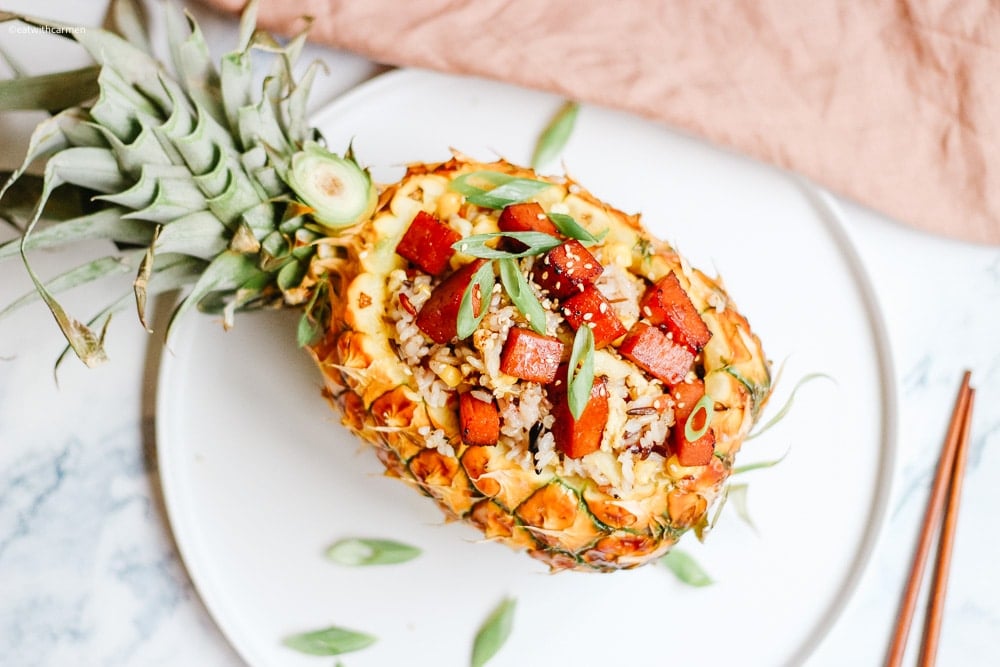 Ingredients and Substitutions
Whole pineapple - Using a whole pineapple makes for a great presentation. However, you don't need really a whole pineapple. Fresh pineapple pre-cut from the grocery store will work. Even canned pineapple will do just fine. I just did it for the 'gram.

Day-old, cold rice - I used a mixture* of white jasmine rice and wild rice. When you mix both rice, it becomes purple. Use whatever rice you have. Brown rice, white rice, or wild rice. As long as you use leftover rice. Never use fresh rice for fried rice. It will clump up and you wouldn't like the texture.

*Here are my exact rice mixture measurements: 2 cups white jasmine + 1 cup wild rice. Rinse and put the correct amount of water it says on the rice instructions and cook in the rice cooker.

Spam - The star of this recipe. It has a salty and umami flavor and a nice meaty texture. No substitution for crispy spam.

Soy sauce - I used low-sodium soy sauce. Feel free to use tamari or coconut aminos. You can also add oyster sauce.

Vegetables - The beauty of fried rice is you can put whatever you want in it. This is a great way to use leftovers. I kept it simple with just corn, carrots, and green onions. However, feel free to add in whatever veggies you have like green beans, bell peppers, and green peas.

Eggs - Scrambled eggs are a classic addition to fried rice. Awesome protein source and they help to bind everything together to make it a meal.

Garlic - You need fresh minced garlic, but you can use garlic powder if you don't have any on hand.

Sesame oil - A little sesame oil is a must in all fried rice for that rich, nutty flavor.

Avocado oil - For frying the cubes of spam, veggies, and eggs. You can use any neutral oil like canola or sunflower oil.

Green onions - Gives a fresh and sweet flavor.

Sesame seeds - For garnish

Salt and black pepper - To taste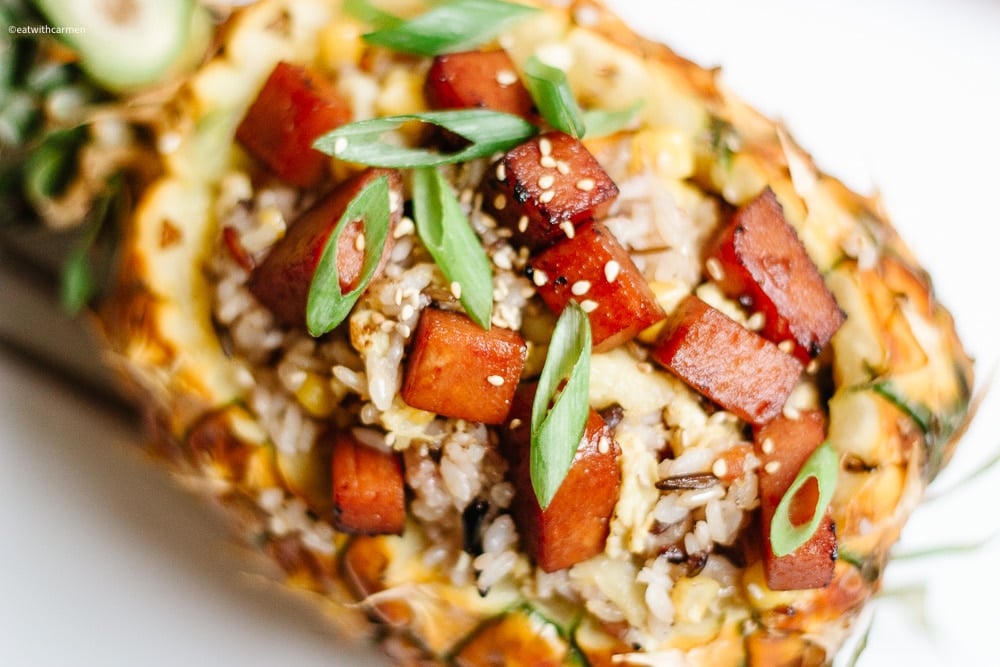 Equipment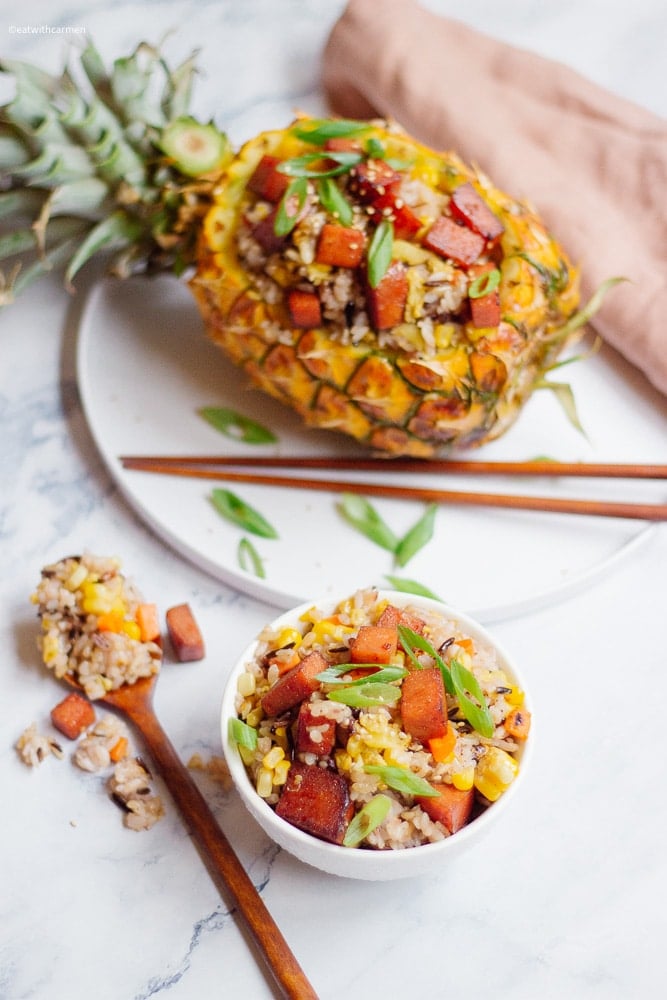 Still hungry? Try out my other recipes!
Juicy Air Fryer Boneless Chicken Thighs – Balsamic Glazed
Air Fryer Frozen Dumplings with the Best Chili Garlic Oil Sauce
Teriyaki Air Fryer Boneless Chicken Thighs
Print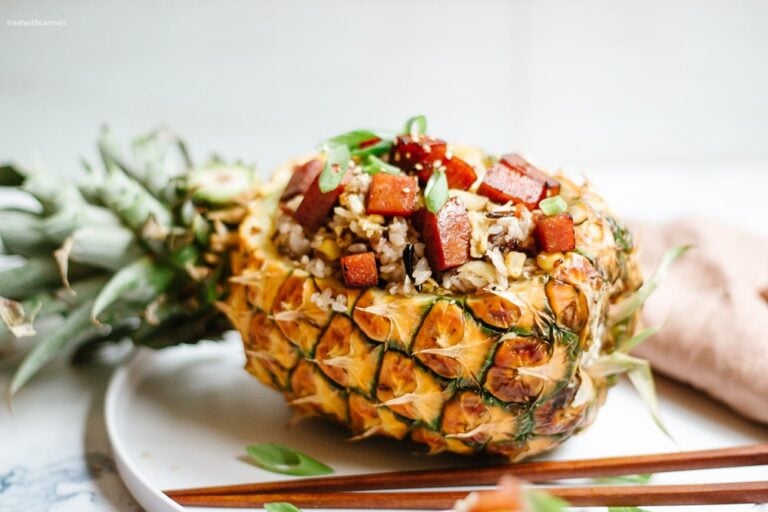 Spam Fried Rice with Pineapple
Spam Fried Rice but better! This recipe will definitely impress everyone you feed this to.
Total Time:

30 minutes

Yield:

4

1

x
3 cups of day-old rice
1 whole pineapple (only using 1 cup of pineapple chunks)
1 can SPAM cut into ½ inch cubes
2 eggs
1 cup corn
1 cup carrots
1 bunch green onions (separate the white is for sauteeing and green part is for garnishing)
6 cloves garlic minced
1 tbsp soy sauce
1 tbsp sesame oil
avocado oil for frying
salt and pepper
Instructions
Cut your pineapple in half.
Remove the inside of your pineapple using a spoon and a sharp knife. Be very careful, this is the toughest part of the whole thing. Cut your pineapple into smaller pieces and set your pineapple "boat" aside. You are only using 1 cup of pineapple chunks for your fried rice. Store the rest of your pineapple in an airtight container.
Prep the rest of your ingredients.
Mince your garlic.
Cut and separate your green onions. The white portion is for sauteeing and green is for garnishing.
Prep your corn and carrots.
Take your cubed spam out of the can and cut it into ½-inch cubes.
Whisk 2 eggs.
In a wok at medium-high heat, add some oil and saute the garlic and white part of the green onion until fragrant and golden brown. Add in the rice and break it up in the wok and fry it until it is ready.
Remove from the wok. Set it aside.
Add some more avocado oil, scramble the eggs, and set it aside with the rice.
Add some more avocado oil and stir fry the pineapple, carrots, and corn until it is cooked. Set it aside.
Add more avocado oil, and fry up your spam cubes. Adding a little bit of soy sauce to make it taste like spam musubi.
Add back all the ingredients: rice, eggs, carrots, corn, and pineapple.
Saute and add the sesame oil at the very end.
Put the rice back in the pineapple "boat", and garnish with green onions and sesame seeds.
Serve and enjoy!
Author:

Carmen

Prep Time:

10 minutes

Cook Time:

20 minutes

Category:

mains, sides

Method:

wok

Cuisine:

asian
Keywords: spam fried rice, pineapple fried rice, spam, spam fried rice recipe, musubi spam