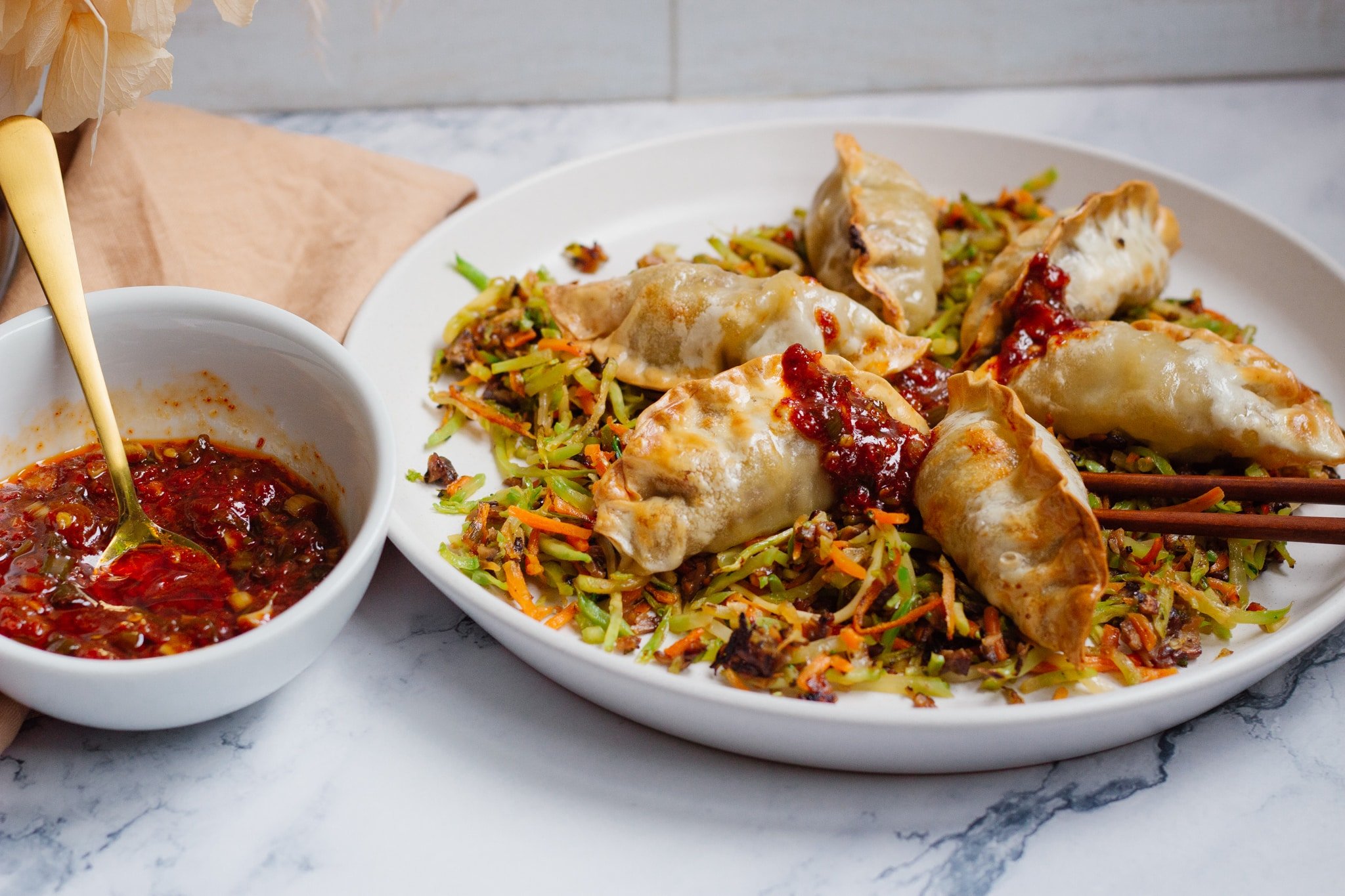 ---
Who doesn't love delicious meal ready in 15 minutes? Feel free to make your Asian style dumplings fresh, but this air fryer dumplings recipe is all about frozen dumplings and my amazing Garlic Chili Oil. It can be a full meal on its own, or a side dish to mushroom fried rice, Asian rice bowls, or noodles.
While the best way to cook dumplings is definitely pan-frying or deep frying, the cook time takes longer and the pan with a lid creates dishes you have to wash later. I just love the air fryer. It's the easiest way to get your dumplings ready, and it definitely speeds up the process of making meals.
If you're a mom of young kids, you are literally making 6 meals per day (3 snacks, 3 meals). I purchased my air fryer during the pandemic and I was hooked! Never going back.
Air frying anything is easy. Press a few buttons and you're good to go. This air fryer frozen dumplings recipe, like my other air fryer recipes, is all about simplicity at its finest. The dumplings are done when they are golden brown and crispy. I like to put the Chinese dumplings on a plate and drizzle the garlic chili oil over them. You can also dip the dumplings in soy sauce, rice vinegar, or hoisin sauce.
---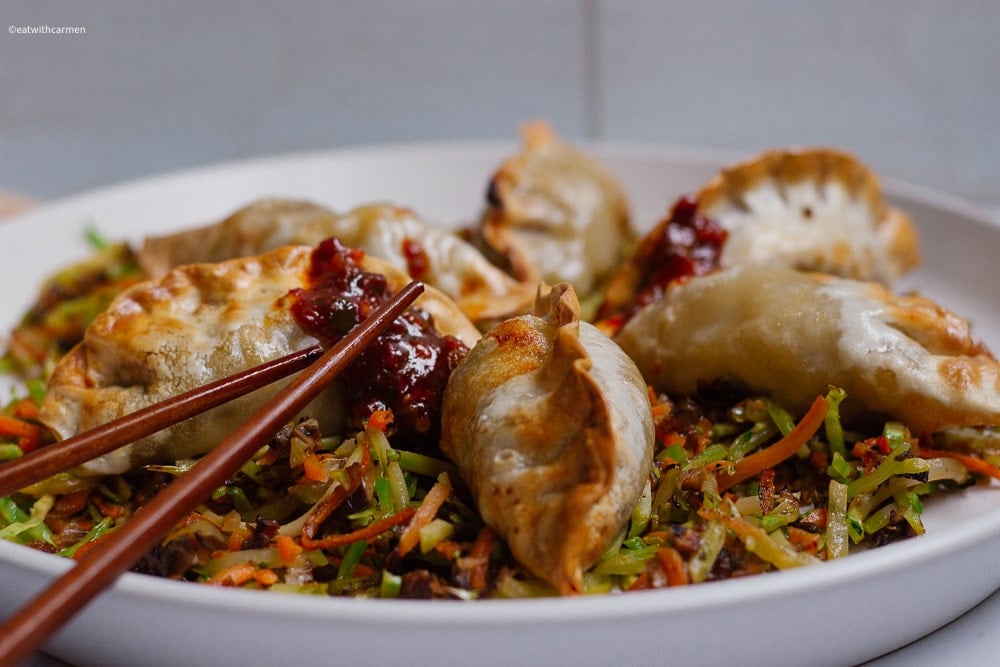 ---
Garlic Chili Oil - the holy grail of sauces
This sauce is my holy grail of sauces. The smokiness from the gochugaru, sweet, salty and tangy. Such a well-balanced sauce. This is great with air fryer potstickers, dumplings, noodles, rice, steak, chicken, tofu, or any frozen food – you name it, I have dipped it in this sauce. It is my favorite dipping sauce of all time.
---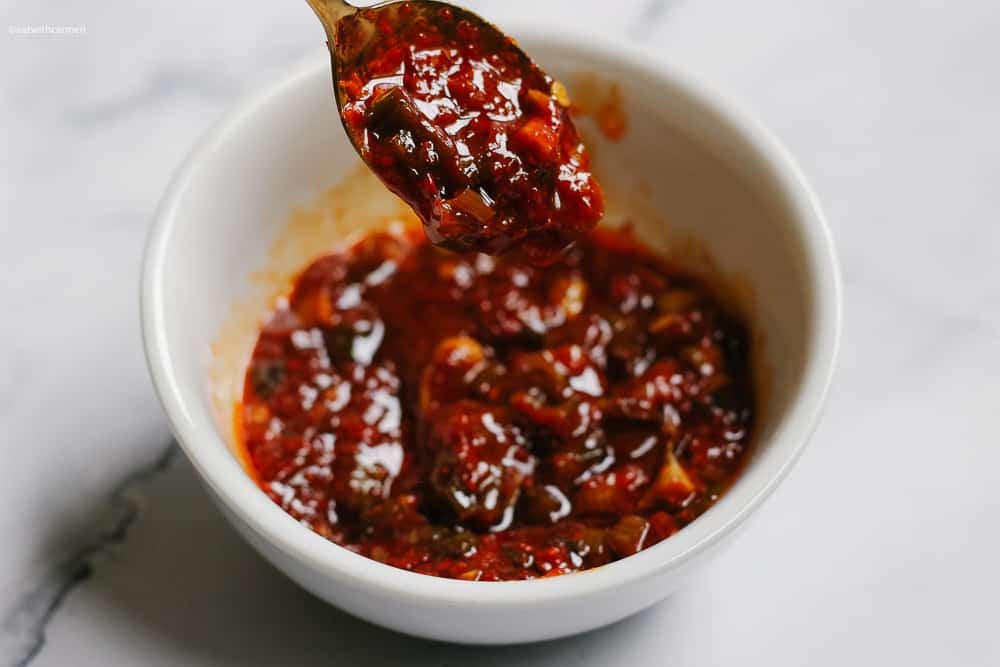 ---
Dumplings and Air Fryers
AIR FRYER - You can use any air fryer for this. I personally love the Instant Pot Vortex Pro. I can air fry a whole chicken in it. It is great for meal planning for my family as it cuts the cooking time in almost half. The air fryer basket is also great for this recipe, but I would use a liner such as parchment paper to prevent rust formation at the bottom and make clean up easy.
DUMPLINGS - You can use any type of dumpling for a quick meal. There are so many different types of dumplings, from mandu to gyozas and potstickers. They are all essentially the same, just different names. This is an easy Chinese food fix!
---
---
How to make the easiest meal of your life
#1 - Get frozen dumplings
#2 - Pan fry your dumplings or better yet, AIR FRY THEM! This is my new favorite way to cook my crispy dumplings. One of the fastest ways to cook dumplings in a single layer without any mess. No pan and lid to wash.
#3 - Make your sauce. This takes 5 minutes to make.
#4 - Eat and enjoy!
---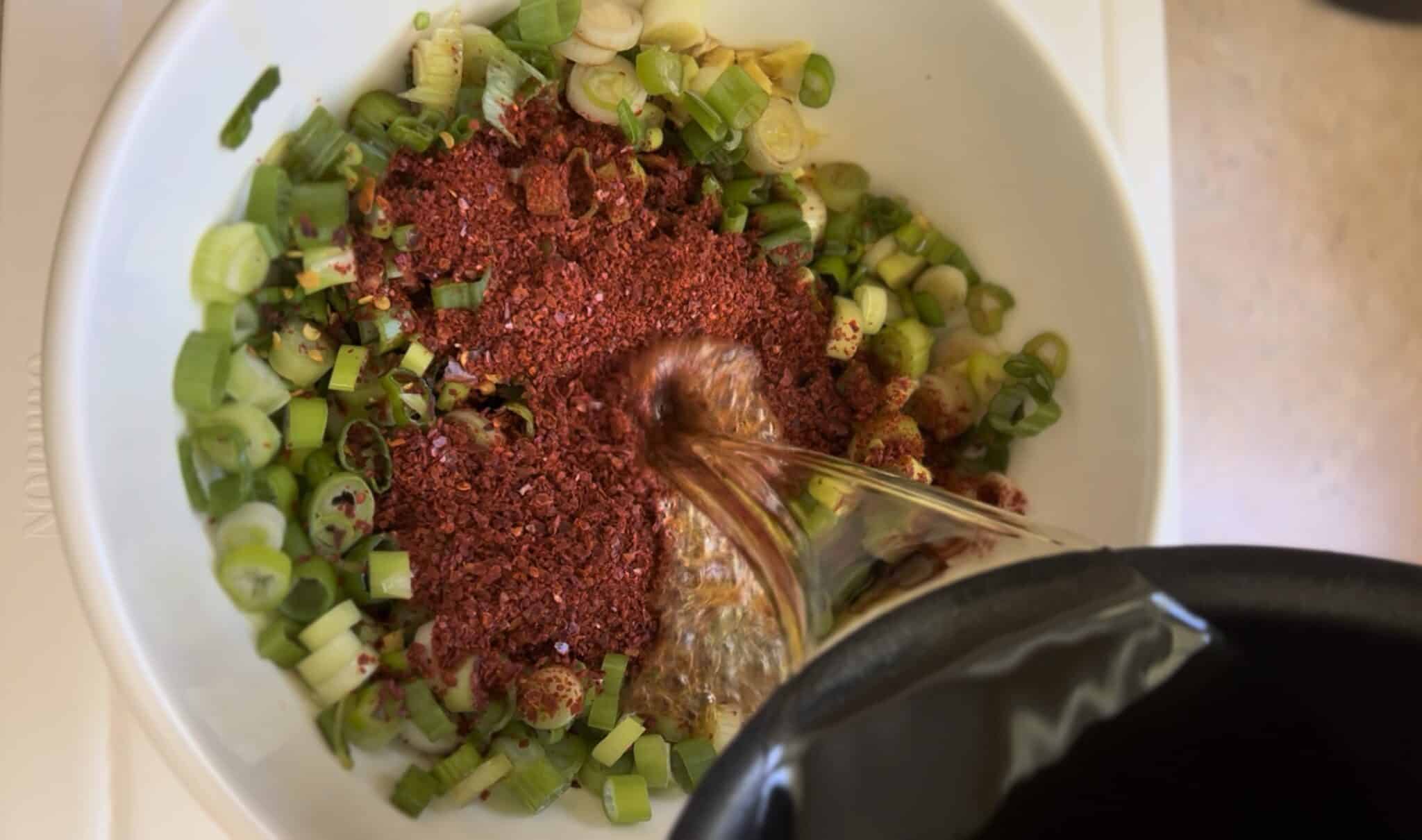 Ingredients and Substitutions
Frozen dumplings - I love a good homemade dumpling. However, I always have frozen dumplings, potstickers, or gyozas in my freezer. I always crave dumplings on a weekly basis so frozen dumplings are the way to go. Feel free to make dumplings from scratch and freeze them for later use. I like to buy mine from Asian grocery stores or Costco. Costco is the best for frozen dumplings!

Garlic chili oil - You can make this from scratch or buy it at the store. I like to make a big batch and keep it in a jar for future use or for leftover dumplings.

Avocado oil - Any neutral oil with a high smoke point will work for this easy recipe. Canola, sunflower, or vegetable oil. You can only put a tiny bit of oil to make it way healthier or even an oil spray. But I wouldn't recommend using olive oil for this as it gives off a different flavor.

Green onions - This is the base of our sauce.

Garlic - You can't call this Garlic Chili Oil without garlic.

Black vinegar - You can get this in Asian grocery stores.

Oyster sauce - I used vegan oyster sauce as I am allergic to seafood. Regular oyster sauce works just as well, if not better.

Soy sauce - Low sodium is what I used in this recipe. You can use tamari for a gluten-free option or regular soy sauce.

Sweetener - When making a sauce, it is crucial to have your flavors well balanced. Sour, bitter, salty, and sweet. That's my motto in life – balance. You can use whatever you have on hand. I have used regular white sugar, coconut sugar, or honey in the past, even monkfruit sweetener for the keto people.

Gochugaru - This chili is a Korean chili. Traditionally used in making kimchi, this spice is not spicy whatsoever. It gives this sauce smokiness and the best red color without the overpowering spice.

Red chili flakes - This is your spicy component. You can add more or less depending on your preference.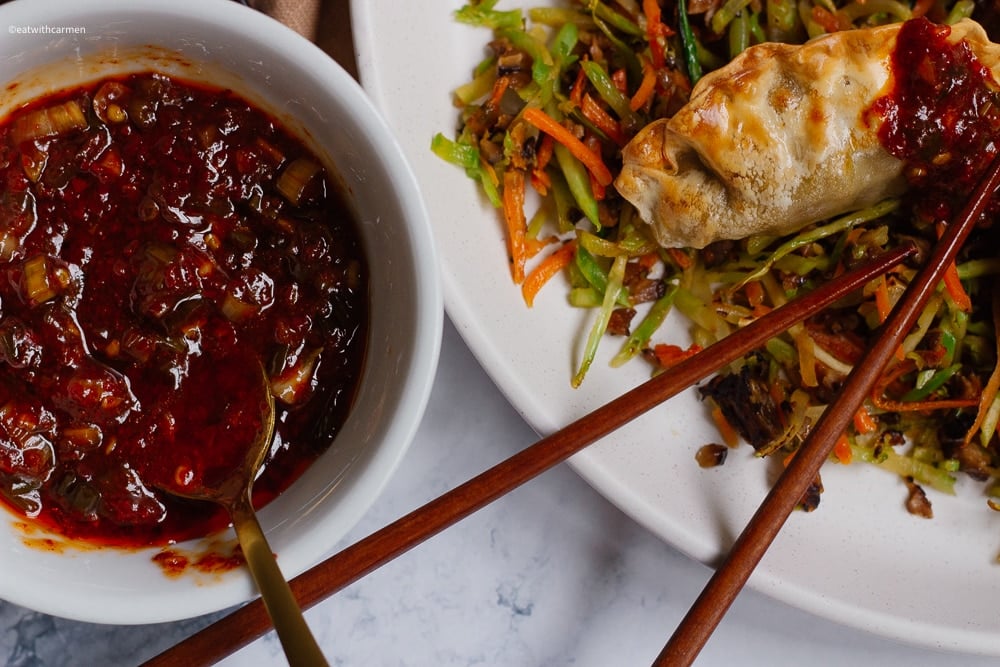 ---
Here are some other recipes you will love!
---
Print
Air Fryer Frozen Dumplings with Garlic Chili Oil
This Air Fryer Frozen Dumplings with the best Garlic Chili Oil recipe will blow your socks off. A quick snack or meal is ready in 15 minutes.
Total Time:

15 minutes

Yield:

2

-

4

people

1

x
8-10 frozen dumplings, potstickers, mandu, gyozas or wontons
Garlic Chili Oil - makes 1 cup
⅓ cup avocado oil
1 cup green onion
4 tablespoon gochugaru chili flakes*
1 tablespoon minced garlic (5 cloves)
2 tablespoon black vinegar
1 tablespoon red chili pepper*
1 tablespoon oyster sauce (choose vegan option for plant-based)
1 tablespoon sweetener (I used maple syrup)
1 tablespoon soy sauce*
1 teaspoon salt and pepper
Notes
Gochugaru - is a korean chili. Very mild smoky flavor. Not spicy at all. Traditionally used to make kimchi.
Red chili pepper - use as much or as little as you want. This is the spicy component of your chili oil
Maple syrup - use whatever sweetener you like. The sweetness is to balance out all the flavors. White sugar, brown sugar, honey. Whatever you have on hand.
Soy sauce - tamari for gluten-free or coconut aminos works great as well.
Author:

Carmen

Prep Time:

7 minutes

Cook Time:

8 minutes

Category:

mains

Method:

air fryer

Cuisine:

asian
Keywords: Air Fryer Frozen Dumplings with Garlic Chili Oil
[instagram-feed feed=3]